by
I have been thinking a lot about fire lately, but I have struggled to get these thoughts out of my head. Recent events here in Arizona have made me sit down with a couple beers and give it a try.
It all started a couple weeks ago. Wanting to escape the heat of the desert, my buddy E and I decided to make a quick trip up to Flagstaff for some single track and beers. When I got to the trailhead, E was sitting on the tailgate of his truck already a couple beers deep. When I told him the ride I had in mind he wasn't thrilled, but I promised him it would be worth it. Cold beers in our packs, clear blue skies, and temperatures in the low 80's were a welcome relief from the heat and dirty air of the city we just left. There will be nothing bad about this ride.
The mission for the day was to ride Little Bear trail. This trail was recently re-opened for riding after the devastating Shultz Fire ran through there back in June of 2010. I hadn't ridden this trail since a few weeks before the burn and I was looking forward to seeing how it has changed.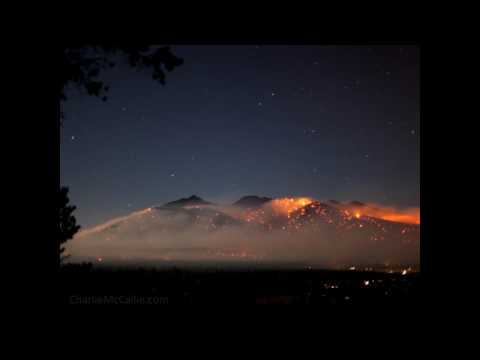 Little Bear trail has a special place in my mountain biking heart. I first rode this trail about 11 years ago when I had just moved to Arizona. It was the first time this kid from New York felt like I was really riding in the west. The first time I experienced 3 miles of coasting, seemingly endless switchbacks, and altitude. Oh how the altitude made me suffer. I have so many memories from this trail. From a friend breaking her ankle in a crash and hitching a ride to the trailhead on the back of a horse. Or riding nose to tail at night with a couple buddies, drunk as a skunk, buzzing each other's tires all the way down the hill. To the scar on my right shoulder that I got from blowing a corner and getting a little too close to a Ponderosa pine. I have carried that scar with me for the better part of a decade and it just finally faded away this winter.
We took a less than direct way get there and I made E stop for a bit before we dropped in. I didn't want to be out of breath or in a hurry for the next few miles. When we finally hit the burnt area I let E go on ahead. I wanted to slow down and observe a little.
What I saw was a trail I barley recognized. Standing burnt trees, faceless totem poles, reminding me of what was once there. It's the first human reaction to look at this charred landscape and see ugly and feel sadness. I will admit, that is what happened to me. I rolled on through a left hand turn and saw the tree that scarred my shoulder so many years ago. Black and dead, skinnier from having no bark, but still standing. I thought to myself "Tree, you are one tough sonofabitch".
I paused to observe a little more and I noticed all of the green vegetation sprouting up everywhere. Grass, wild flowers, and little Aspen saplings filling in all the empty spaces on the mountain side. The green colors were so vivid contrasting against the gray and black in the late afternoon light. A deer ran in front of us and grasshoppers jumped up and bounced off of our spokes. Now, with no trees around, we were treated to amazing views of the peaks. Views we never knew were there when we were under the shade of forest. Maybe it was the beer or the altitude affecting my lowlander brain, but this was the most beautiful destruction I had ever seen.
I spent a few more days up in the hills riding around and enjoying the forest. On the drive home I heard on the radio that a fire had just broke out in Prescott. shortly after that, I look to the west and see this:
The Doce Fire was 3 hours old in this picture. It was a pretty heavy thing to see only a couple days after pondeing the destruction on Little Bear. Out of curiosity, I took a right off the highway to get a little better perspective of this monster blaze. At one point I pulled my truck over and got out to take some more pictures. But it felt kind of tacky, like I was taking pictures of a bad car wreck or at a funeral. When I was 20 miles away I felt fine taking a picture, but now that I was closer, it felt more real. I had infinitely more respect for that plume of smoke in the sky. As I was walking back to my vehicle, I noticed a small convoy of green trucks headed my way. The side of the first truck said Black Mesa Hotshots, a crew out of north eastern Arizona a few hours away. By the time the last truck passed I pumped my fist in the air and said "Fuck Ya, guys!". The driver looked right at me and just gave a confident smile and nod of the head.
When I heard the news of the 19 hotshots who died in the Yarnell fire on Sunday, my thoughts immediately drifted to that smile and nod. There I was, a curious gawker on the side of the road, and these men were driving full speed towards the belly of the beast. I can only imagine that it was a similar scene this weekend when those boys from Granite Mountain got the call. Straight to the action, without hesitation.
Fire is the natural cycle of life in the forest. It cleanses, and in the long run creates balance. By the time my grandkids shred Little Bear, they will probably never know a fire even happened. My scar on my shoulder has faded and I no longer remember that tree every time I look in the mirror after a shower. But those 19 men were not part of the cycle.  Against all human nature and sense of self preservation, those heros ran at the fire. I am in awe of this, and their memory will not fade from this community.
Below are their names and I encourage you to read each one.
Ashcraft, Andrew – Age: 29
Caldwell, Robert – Age: 23
Carter, Travis – Age: 31
Deford, Dustin – Age: 24
MacKenzie, Christopher – Age: 30
Marsh, Eric – Age: 43
McKee, Grant – Age: 21
Misner, Sean – Age: 26
Norris, Scott – Age: 28
Parker, Wade – Age: 22
Percin, John – Age: 24
Rose, Anthony – Age: 23
Steed, Jesse – Age: 36
Thurston, Joe – Age: 32
Turbyfill, Travis – Age: 27
Warneke, William – Age: 25
Whitted, Clayton – Age: 28
Woyjeck, Kevin – Age: 21
Zuppiger, Garret – Age: 27
**If you would like to show your support for these heros and their families please give the 100 Club of Arizona a look.
…and from Dru in the comments: The Prescott Firefighters have their own in-house charity run by volunteers. It typically takes care of others, but now it will take care of its own. http://www.prescottffcharities.org/ 100% of donations will go to the families of those lost — no admin or fundraising expenses will be deducted.
Thanks for reading. Keep it dirty…
by