by
Friday – Devou Park Cyclo-Stampede
I had committed to working this race a while back in exchange for a free entry. Based on my lack of riding in the last month, let alone "training", I had two goals – 1. Smile. 2. Stay upright. Easy enough. I took some suggestions, brought a trainer to spin my legs beforehand, and wore a full balaclava to cover my mouth and keep my breathing warm. The air was moist, it wasn't too cold, I looked like an idiot, but fuck it. I just wanted to have some fun. I was especially stoked that we had 2+ inches of rain the day before which meant mud, and lots of it. It did not disappoint.
For some reason, mostly due to Masters CX Worlds being in Louisville in January, and some rule that masters can't have UCI points, they lumped all the 35+ women in one race cat 1-4. So I was racing against women who normally race in the elite field with KFC. Whatever. I wasn't in it to win, that's for damn sure.

Photo source: Karen and Doug H.
The laps were tough, the course was tough, but it was rad. I did not "race" – I rode it. I didn't even try to pass anyone, and I waved women on past me. We had hills, logs, soupy fucking rad mud, more hills, leaves, wet grass, more hills, and more mud. I never went down.

Photo source: C.M. McDonald
Crossing the finish line, I did the fist pump into the air like I won or something, just to make people laugh. I smiled. I had fun. And I only beat 2 women.
After the race, I stayed all day to "work" a course crossing. I hung out with a bunch of local guys I know, they passed around a bottle of Woodford Reserve, and drank PBR in between. At the end of the day they were wasted and I was kind of glad I don't drink. They did make things a bit interesting.
There was one guy there from Tucson. He is coached by our very own Jake the Snake which was pretty cool. Apparently this dude knows some of my old school homies from back in the day. He saw my DC jersey and thought I was from AZ!
Sunday Harbin Park
Once again, the 35+ women were all lumped together. They blew the whistle at 9:15am, which was really 10:15am since we did the clock change shit the night before. It didn't help the chill in the air and the balaclava really saved me. Into the first lap, we went through some slippery soupy mud and there was a clusterfuck of women who went down. I went down too. When I got back on my bike, my saddle was turned completely sideways, the nose pointing left. Not real comfy. We turned into some slick off camber and thats where I actually got off my bike, punched the saddle a few times, and got the nose turned slightly back to normal, still on the left a bit. Fuck it.
I continued onto to the big false flat – a long stretch that was a killer. I could hardly pedal.
Into the first sandpit, I jumped off my bike and half assed ran/walked through it. The next part of the course was more twisty turney stuff, and back around through sandpit going downhill. I ran it, jumping back on my bike and there was mud, some 180's, some pavement, passed the pit, and onto my favorite part of the course, where they decided to place the barriers on an uphill (not a good place for pictures!), around a bend, and a HUGE downhill, which was all muddy and slick. I was scared I might go down, a friend broke his collarbone on this hill a couple years ago. I didn't go down, and I powered up the hills and back through the crowds.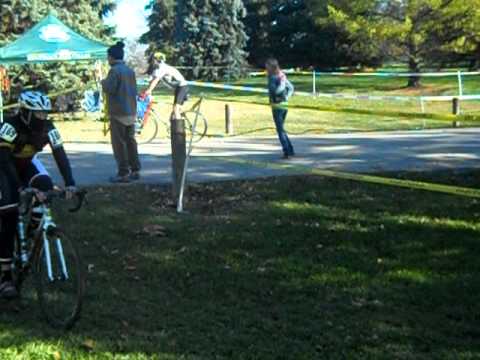 Finishing my 1st lap, the UCI rep dude yelled that we would hear the bell which meant only 2 laps for us. I think they shortened our race so the pro's wouldn't have to race in the dark. I was just feeling warmed up, and I wanted to do 3 laps. The last lap pretty much consisted of me trying to keep one rider back, and passing the girl in front of me. I succeeded – she had to run a hill I was able to pedal up. I ended up 28th out of 34 or some shit like that. Suckage. I wasn't feeling too happy – my legs felt like bricks and the air was cold enough that when I got off my bike, the cough started. Then the headache.
After I spun my legs on the road to cool down, we waited in line for the pressure washer for damn near 30 minutes. Normally I would have stayed to watch the pro's but I was done. I felt shitty, physically and mentally. It'll be ok if I don't hear anymore cowbell for a while.
Raleigh's Craig Etheridge was on the podium all 3 days in the SS category. He's a baller.


Photo source: Dino's Gorilla Grill
by