by
I am on day 9 off the bike. In that time, I have swam over 10,000 yards and ran 20+ miles. I lifted hard at the Y yesterday and feel sore as shit. I ran on some muddy horse trails today with a friend. Every step I took was in the kind of mud where your shoe sticks and your foot slips out. Fun, muddy run.
Tomorrow I get to ride! FINALLY!! I told OB, give me something HARD (thats what she said), like hill repeats. No, he tells me he wants me to stay under 140 and only ride an easy 2 hours. But hey, at least it's a ride.
This is Dominic's new dirtbike. It was one of his favorites back in his day. He had a kick ass flatland session today. He's impressing me like crazy, as he gets more and more smooth. Today he did something called a "rope-a-dope" which looked incredibly intense. I didn't have a camera though. And after every trick he nails, he winks at me. It's cute.
He crashes a lot too. His shins are fucked up.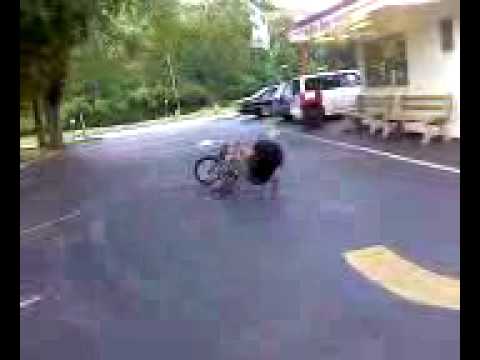 Dominic's carbon cracked a few weeks ago. Our LBS called today and a new frame is coming this week. We are very stoked about this. I still think we should sell it and buy a used titanium frame, but whatever. According to what this write up says, it sounds perfect for what Dominic likes to do on his road bike:
After just a few pedal strokes, it becomes clear that the Fuji SST 2.0 is made for big, powerful riders who spend most of their time mashing the big ring……The Fuji SST 2.0 is classic sprinter's bike. The oversized carbon frame, aggressive position and razor handling make it ideal for chaotic finish line sprints.
Go on and spew your hate for carbon. We know, we know. Steel is real. What's funny is Dominic riding his old steel Serotta with his road bike set up and loving it. He said two days ago he'd never go back to carbon. Haha.
My first criterium is Wed. God help me. I just hope to hang on for a few laps. Last week I went out to cheer, and only one woman hung on for the entire 20K. It's impossible to fucking hang with 70 men. What kind of shit is that anyways? The next series is about 5 minutes from my house and thank GAWD they have a fucking women's 3/4 cat and we're scored separately. Notice the prize $$ too. Dave is good to the ladies. He knows how to put on a good race.
My favorite Bowie song. It's sad.
by