by
Looks like the mountains, they are a coming in le Tour this weekend. Well, today actually. This is not full on kick everyone in the nut kind of mountains today, but it could, or should, maybe break things up, and spread some panic amongst the riders who can't hang. I don't know for sure what is or is not going to happen, but I'm going to be watching. Especially since this morning in DC (District of Columbia, not Drunk Cyclist), it's raining out there. Which means, I don't swing a leg over the bike if it's already raining. I know, I'm a fucking wuss, and you know what? I'm OK with that. Spent many years grinding it out in the rain, and I ain't that guy anymore. My standing rule is, if it's not raining when I leave, I'll go, and if I get caught in the rain, so be it. I'm not starting off in the rain. Fuck that.
Back to the race talk. Couple of cat 2 climbs on the horizon for these jokers, and the finish mostly uphill. Slight flat at the end. As always, Cyclingnews.com has a good write up on the stage profile, and what might shake loose today.
Predictions anyone? I suspect, Contador is ready to let loose a flurry of uphill attacks to show everyone that yes, he is THE MAN when it comes to riding uphill. Although, Schleck is no slouch, and he'll go along for the ride. I suspect a large group will be somewhat together at the finish today, with no big time gained or lost, well, except for maybe Cadel Evans, because, one never knows about that guy. I will say this for him, I've become more of a fan of his this year. He's been aggressive. He's been fighting it out, and showing the World Champ stripes out there in a good way. He's, well, different this year I think. Different better, not different worse. I saw someone commented this week also about how Menchov could be the darkhorse rider of the Tour. I agree. He's sitting back there, waiting. Don't know for sure what kind of fitness he has, but he is the quiet assassin on the bike. Doesn't say much, doesn't act all crazy, but he can throw it down, and has won a few Grand Tours out there. In other words, watch out for that guy. I would bet, a lot of DS's aren't even thinking about him.
On a totally different note. I will be in the AZ on Monday and Tuesday next week. Heading to Phoenix, which I hear, is the world's #1 place to get kidnapped. I guess I will have to be careful. Heading out there for work. Got to get some time in the wind tunnel at Eloy to learn a little bit about free fall dynamics and how it affects a Soldier who may jump out of a plane at over 20,000 feet loaded for combat. Any recommendations for local watering holes I might visit whilst there? I'm only on the ground in the PHX for about 24 hours or less, then back on the plane, and back to the East Coast. Suggestions are most welcome.
Anyway, I don't think anyone has posted this one yet, so forgive me if someone has. A quick look around the website made it look like it hasn't been posted. Possibly the best commercial from this year's Tour.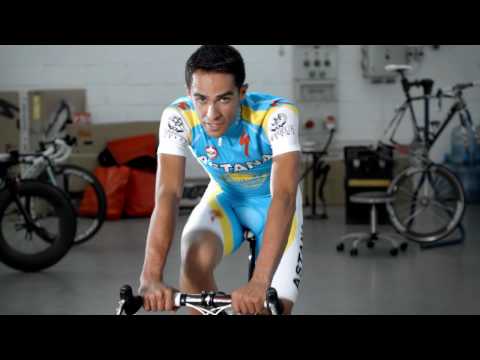 by