by
I'm a big fan of the Slam That Stem blog. Mostly 'cuz I love looking at the candy. (Archive of said candy here.) However, I do not agree with their message.
You do not need to put your stem as low as it will go on every bike you own. You should place your handlebars in the position that your body requires, not just what looks cool.
In case you are unfamiliar with the blog or their mission statement, this image pretty much wraps it up with a nice big red bow on top:
Image source: http://italiancyclingjournal.blogspot.com/2011/09/what-eros-poli-always-says.html.
Every once in a while I hear talk about how tall riders put their bars as low as possible as a matter of course. Well, I'm a tall rider. And, I can assure you that such talk is not correct. It all depends on the geometry of the particular bike.
The italiancyclingjournal.blogspot.com (good site, you should check it out) post linked above is an example of this issue. The title of the article is What Eros Poli Always Says.
Well, I don't know what the man said. I googled it, couldn't find a damn thing. I but can tell you what the images of him racing show with perfect clarity: Eros Poli did not slam his stem.
And, neither should you.
Below is a photo and video of what Eros Poli actually did with his stem from one of the man's greatest exploits, his win over Mont Ventoux in the 1994. Granted, he rides a pretty aggressive position. But, there is quill showing on that bike. No doubt about it.
Not slammed. Not even close.
Image source: http://www.cyclingnews.com/features/photos/mighty-ventoux-set-for-tours-final-battle/80653.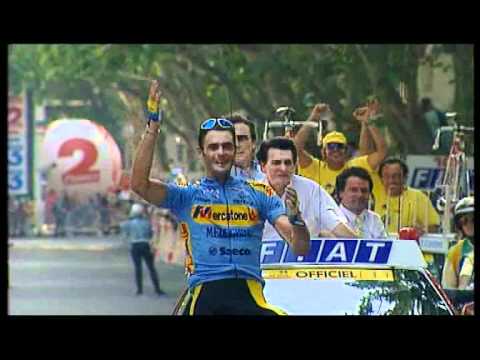 Now, he may have slammed the stem on other bikes. But, that's the point, isn't it? Poli let his body dictate what was needed, not the way the bike looked leaning against the wall.
These are three photos of my own bikes. Notice the difference in appearance. I can assure you that each bikes is set up to fit me. The bars may not be in exactly the same position on each bike, but I will point to the inherent limitations of using 5mm spacers as the reason why. The bars are pretty damn close to the same on each bike. As close as I can get them without finding 1mm spacers and totally geeking out. And, yes, we're talking about the drop from the saddle using a level to the center of the bars as the factor that should be equal. I run about a 10cm drop, which is around 4 inches, on my road bikes.
The stem on my Specialized Allez is right down on the huge, cone-shaped top cap. Look at me! I slammed my stem! Yeah. Not really. I'd probably go a bit lower if I could. But for that traffic cone I'm sporting…
My Moser is few years old, built back when head tubes were made with the expectation of a quill stem. In other words, back when top tubes were parallel to the ground and head tubes were shorter than they are these days. This is where my stem needs to be. I call it the Poli Position.
This is what the Moser looks like with the bars in the same place relative to the Specialized.
This Surly of my mine just looks like hell. Absolute hell. I will grant the Slam That Stem crowd that point. That front end is just plain ugly. And, no, I haven't ever gotten around to trimming the fat off that stock-length steerer. That would better the present situation, no doubt. What can I say, I'm lazy. And I've got three loads of laundry to get through today. How does that explain the last four (or five, or six) years of my not sorting it out? It doesn't. But that's my story and I'm sticking to it.
I must admit, there is no excuse for my conduct. I have never gotten around (for years!) to properly trimming the steer tube on that bike. Instead, I just staked up spacers like hot cakes and called it good. It is not good. It is retarded.
Trimming issues aside, I am also tempted to lower the stem just to make it look less ridiculous. That giant sized 10m spacer (or 15, or whatever) is about as cool at that massive top cap I'm stuck with on my Specialized. Which pretty much means it's like school in the summer: No class. But, if I were to put, say, a 5m spacer under that bitch'n Stella Azzurra stem of mine, the bars would then be lower than they are on any other bike that I own. And, that's just silly, isn't it?
The choice is between how it looks and how if fits. You've got to go with fit. You wouldn't wear a helmet that was too small because it looked better, would you? Maybe don't answer that question. Kids these days, jeez.
Forget slamming. Ride what your body requires.
by