Cyclocross season.
Mine ended.
I am over it.
Apparently, Georgia Gould's season is over too.
Katie is fucking killing it though.
The Cincinnati UCI3 CX pictures are up, and Jeffrey is really good at getting some funny shots. This one made me laugh out loud.
Speaking of CX….
It looks as though Louisville 'Cross Worlds 2013 is going to be just fine as far as sponsorship goes.
The 2013 elite cyclocross world championships appear to be safe for Louisville, Kentucky, as organizers tell VeloNews they have signed five major sponsors and are nearing a television distribution deal.
The rest of the story is here.
This time of year, it's dark at 5:30pm, and when the temps drop below 50 degrees, all I want to do is ride inside. Night rides just aren't appealing to me, I'd rather sweat it out on my rollers in the comfort of my own home. By the time January rolls around, I will be sick of them and will HTFU and ride outside. For the next couple months, I will embrace my indoor sweat sessions.
In addition to rollers, I run stairs. On UC's campus, we have Crosley Tower. There are 16 flights of steps in that building. My old coach, OB, had me run them once a week last winter. I loved it. I went back this week for the first time this year. The first time up, I was coughing and hacking, my quads and gluts were burning like a mother fucker, but it felt so good. The stairwell is kind of creepy, so I like to pretend someone is chasing me, it makes me go faster. I climbed the 16 flights a total of 10 times. If that doesn't keep this ass lifted, I don't know what will.
I posted this video on the DC Facebook page last night and it blew up. With IMAZ this weekend, it's hella appropriate. Dirty Biker, BE FUCKING CAREFUL drafting a triathlete.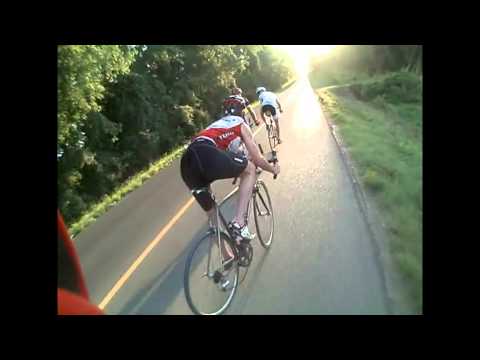 On a side note, I want to give a shout out to Jennifer Harrison, who coached me to IMKY two years ago. She would never pull some shit like that dude in the video, cuz the girl has skillz and even raced CX a few years back. She will be racing IMAZ and she is harder than you. Kill it this weekend sista'.
by