I just got back from my 2nd CX race of the season, and I am coughing, coughing, coughing. I raced down in Louisville for the TDL, put on by my friends, the Websters, at Bike Cliques.
I race with the 3/4's 35+. They start us with the 3/4 open women and today there were probably 30+ women starting. It was really good to see so many girls out there.
The course was painful. And I raced it blind like I always do.
The course at Fisherman's Park park has been called "off-camber madness" and "high-speed technical."

It also features a lot of climbing, making it one of the hardest courses in the Midwest and a favorite of the Elite racers. "It all comes down to how hard you can go for how long," says Webster.
I had a bad start, crashed with two girls the instant we made our 1st tight turn. I got up as fast as I could and kept going. The big downhill with the turn at the bottom was fun, two girls lost their chains. My Paul chain catcher fucking rocks. Took a right turn into a huge run up, that I ran the 1st lap and rode the next 3 laps. There was a fun log to hop at the bottom of a hill, the kind that make me grunt really loud. No sand pits. Lots of tight slow turns and then some barriers!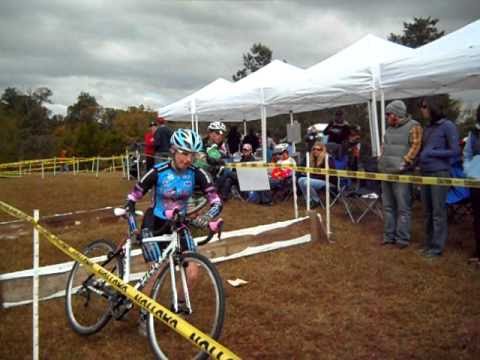 And that, is the ONLY way I ever pass anyone in a bike race.
Then was a lot more of that off camber-madness, it would have been crazy with some mud. Then I was crossing the timing area and they said two laps to go. I was gasping for fucking air, drool hanging out the side of my mouth and starting that irritating cough (that still hasn't stopped). I rode the next 2 laps as best I could, not seeing or passing anyone.
On my last lap I got pissed seeing a bunch of guys I knew jump under the tape to start a warm up lap. "Fuck, there's a bike race going on here!" I yelled at them. That shit irks me so bad. I don't ride the course when YOU are finishing your race.
I digress.
I finished 4th.
I missed the podium by a place at my last race too.
Someday. Dammit.
by