by
If you've ever flown into SeaTac from the north, you'll know that approach over Seattle is a delight. A lush, green landscape blotted by the Puget Sound, all bracketed by snow-dipped Olympics to the west and Cascades to the east — like landing in an real-life, urbanized set of "Fern Gully." The view is a visual sorbet before you stare at the shapeless khaki asses of the business class for the next 15 minutes.
Getting closer. The last swath of greenery you'll see is North SeaTac Park, perhaps with more detail. A ball field and track. Cars parked on the grass. A round brown horse pen. Then, just as the plane reaches its minimums and touches down on 16 L, the green gives way to gray tarmac.
It's in this park where Seattle gets its mid-week singletrack fix. Known around town as the Wednesday Night Worlds, the roughly 3-mile course winds through thick, cool woods along tacky dirt (as PNW trails do). The course changes every week, riffing on the same set of trails. Sorta like going to your favorite diner each week but the pie special always surprises you. (Always, always order the pie.)
The head cook of this race? That'd be Russell Stevenson.
He's a former CX pro, from what I gather. Seeing a gap in Seattle's bike race calendar between April and September, Russell started the series two years ago. Wednesday Night Worlds is a low-commitment, low-cost affair that's worth ducking out of work a few minutes early and getting a jump on rush hour for. And for three weeks, I joined in the scramble: find a parking spot, slide the seat back, kit up and get to the line. Something about the harried naked moments of changing in your car with All Things Considered on, swapping skivvies for chamois, and sitting bare in the driver's seat adds a drop of adrenaline to the routine. Or is it just me? Just me, then.
For a weekly race, the Wednesday Night Worlds has all the trappings of a race you'd do on a weekend: unleashed dogs bumbling around the registration table, E-Z Up tents rising, Tiki Torches getting hot and beer getting cold.
Line up!
Last May, I lined up for the B "Sport" category — the largest field, with about 70 racers. The As were the masochists, while the Cs were mostly beginners getting their feet wet with MTB racing.
I rarely pre-ride a course, on account of my punctuality rather than preference. Russell ticked left and tocked right along the front row, talking semi-audibly into a bullhorn. No one seemed concerned about hearing him except me. I made like a periscope to hear the pre-race intel.
Then I realized very large and very loud aircraft flying just above the trees drowned out all sound for a few moments. No sense is waiting for a quiet period. I was on a borrowed Scott Scale 29er singled out. An Airbus in DHL livery roared overhead. I didn't glean much from Russell, but the pack quickly loosened up and we're off. The race starts on a gravel uphill before dumping everyone into the woods.
For a park wedged against a major international airport, you get a healthy dose of roots, rocks, and jumps on the course. Each week, there are a couple options: easy and hard. The hard is usually a drop off a log, a hunk of concrete, or dirt jump that cuts seconds off the course.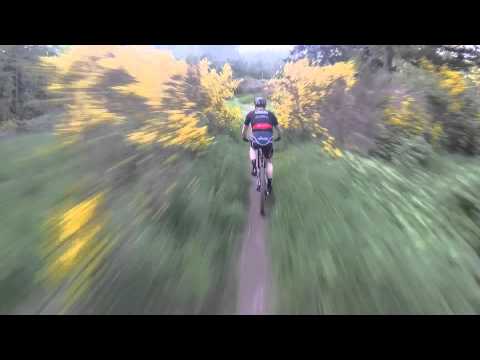 Other elements: Sometimes you have a straightaway along a horse corral. Sometimes you have to climb up some overgrown pavement. Sometimes the course winds through a BMX pump track with kids wearing DC shoes and Monster Energy hats dumping old beer on the banks. Sometimes you're so deep in the woods that an unseen 747 screams by and the Doppler effect fucks with your equilibrium and you overcook a turn and four people pass you goddamnit!
The following week, you're faced with a similar set of kickers in reverse. It all seems too familiar…
The beer
After redlining for three laps, I dogfight the guy behind me for 27th place or whatever. He beats me. I give him a high five and proceed to the kegs.
Schooner Exact Brewing Co. brings it. If you've bought the cup for $15, you get a free pour every week. Didn't get the cup? Fish out a High Life or Rainier from the cooler.
For the first Wednesday in June (and my last race because I was moving a few days later), I ran into this clown. Dirty was in town for work and work-related shredding. Together, as DCers, we surveyed the scene and determined the folks in PNW are doing it right.
Don't let the name of series fool you. On any other weeknight, you might be a commuter pathlete, beating everyone to work. You could be the winner of some other group ride. Or, hell, you might go to spin class and just not tell anyone about it.
But if you show up to Wednesday Night Worlds, no pretense or competitive charade will do you any good. What better way to earn bragging rights at the water cooler the next morning?
by