by
For this week's Six Pack, I'm sipping on Mother Road's Roadside American ale, picked up straight from the source in downtown Flagstaff last weekend. In lieu of the usual cardboard-bound bundle of bottles or a sixer of cans shackled in plastic rings, I filled up a stainless steel growler (one liter), which, even though it's about half the amount of an actual six pack, it's doubly drinkable. See the pic above. There are at least six taps there, yeah? Yeah. Cool. Now, on to business.
Between Frostbike, NAHBS, a whole bunch of weird new products and, of course, this weekend's Sedona Mountain Bike Festival, it's been great Week in Bike. We'd need to call this "The Case" if we were to cover it all. We took last week off to drink about some upcoming posts and projects that are sure to tickle your fancy.
Oh, you so fancy.
Let's March right into it.
The Six Pack: 3/2
Beer 1: DUI guy eats it bad, is sad
Take this as a cautionary tale. Occasionally*, Drunkcyclist gets heated feedback for espousing an activity as reckless as cycling intoxicated. How irresponsible! The irony of this website, however, is that we must be seated in front of a computer, nearly prone, like the devolved Neanderthals that we are, to post such imprudent drivel.
*Regularly.
The most extreme riffs on drunk cycling are, indeed, the most sobering. Coming at us from Nevada City, CA.
At approximately 11:40 AM today [March 1] Mr. Robert Sponder, a 49-year old Penn Valley resident, was riding on a Trek bicycle westbound on Boulder St., just west of Red Dog Rd., heading toward Nevada City. He was wearing a bicycle helmet, although it is unclear if it was sized correctly or properly worn.

Due to a high level of alcohol intoxication, Sponder was unable to safely ride a bicycle and overturned toward the left into the roadway. As he fell forward he struck his head on the asphalt of the westbound traffic lane. He sustained major head injuries.
Easy to chuckle at, I bet. Now, look. There are all kinds of assumptions you can make. Dude was drunk before noon? Maybe he's got a serious substance abuse problem. The article here, as most stories about cyclists in accidents, doesn't fail to include the bit about whether he was wearing a helmet. (Because we all know that, say, if you get hit by a car, it usually doesn't matter if you were wearing a helmet — a detail lost on most reporters and readers alike.)
This isn't the kind of riding we're out to promote, condone or mock. You wanna have a few beers after your ride? Maybe hit up the bar for a round and pedal it home? Cool. But if you're in a situation where you're deeply intoxicated, falling down and critically injuring yourself, man, get help. That's not what DC is about. We say "rubber side down" to each other for a reason.
We hope Mr. Sponder pulls through.
Beer 2: Medical motorbike takes out Stig Broeckx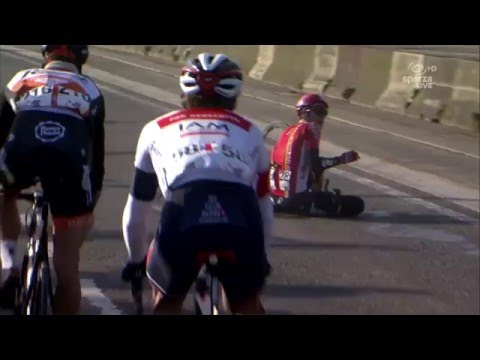 As roadie pre-season wraps up, we've got another installment of Support Vehicle Hitting a Racer.
From our friends across the pond at Cycling Weekly (UK):
A passing medic motorbike swiped the team Lotto-Soudal Belgian cyclist in the final 35km of Belgium's semi-Classic race. The team reported that he was taken to the hospital and suffered a fractured right collarbone, a rib fracture and a bruised hand. He will undergo surgery this evening.

It follows several car and motorbike incidents from 2015, including those in the Tour of Flanders, Tour de France and Vuelta a España.
Remember this one?
Poor @jessesergent knocked down by car at #RVV. pic.twitter.com/TpRMxb6Dnm

— daniel mcmahon (@cyclingreporter) April 5, 2015
I'm wondering what the equivalent of this would be in a mountain bike race. A deer running through the woods taking out a rider? What about cyclocross? Getting beer thrown in your eyes? Can't imagine getting taken out by anything other than another rider on a velodrome. What say you, DC faithful?
Beer 3: NAHBS 2016 – Sacramento
Let this be a teaser for Dirty's coverage of all things North American Handmade Bike Show. Check back on the big yellow page for a full report.
Beer 4: OMG Shoes (made with bike tires)!
Last year, adidas teased its new Terrex X King trail running shoes made with and inspired by Continental rubber compounds used in the X-King tire.
I mean, normally I'm given to making fun of something like this. What is it about these shoes? The way the sole looks like, well, a Conti mtb tire, the way the tread eschews the typical chevrons and knobs of a trail shoe and instead looks exactly like a tire, complete with those little rubber whiskers I love to tear off new rubber.
These were announced last year by adidas, a company that's no stranger to cycling footwear and apparel. And you know, the Terrex shoes don't look that bad. I'd actually revel in a chance to wear this kicks and run from something. They wouldn't get a flat, either. But at $165, I'd rather have dozens of Jumbo Jacks — some to eat, others to throw at you from the trailside while dressed as a gorilla.
Take it from GearJunkie, who did a proper review:
On rock, the "mountain bike" rubber gripped well though not extraordinarily different from other sticky rubber. But the extra-large lugs dug in for traction as I paced a swampy few miles through a Florida state park.
Rather do it on a bike.
But, hey. At least adidas didn't go the way of Under Armour Fat Tire GTX shoe, which looks more like a snowboarding boot had a three-way with the Michelin Man and a Specialized Terra 2bliss CX tire. WEIRD. I mean, look at this fucking $200 thing:
Beer 5: Ford's foray into bike tech
Now this is interesting. A mainstay of the automotive world, a pioneer in advanced manufacturing, and the only U.S. automaker to not take a bailout during the great Recession (an is arguably stronger for it), Ford won a patent for an automatically deploying kickstand that I'm still trying to understand how it works.
According to blog Ford Authority, the kickstand consists of:
"a cylindrical housing, a "telescopically deployed support arm," and a "friction wheel" which uses the rotational energy of the rear bike wheel to power the support. Somehow or another, Ford's patented kickstand would be able to engage at certain speed thresholds – the examples used in the patent literature are 3 mph for deployment, and 5 mph for retraction – to stabilize the bike and keep it upright at low speeds."
Sounds like a Drunkcyclist could use such a device, amirite? Just kidding, putting my foot down isn't that hard. This would, however, be sweet for a disabled or injured rider. And it signals that even a legacy automaker is poking into the realm of cycling. This isn't Ford's first time — the company also filed a patent last year for an electric unicycle fashioned from a car's rear wheel.
Beer 6: The Sedona MTB Fest, 3/4-3/6
Let's bring it back down to earth here.

This weekend, our homies in the mountain biking red rock mecca are hosting the second Sedona MTB Festival. Go. We'll be there. Sniff us out.
Full intel on the festival's homepage, and up-to-date rundowns of the bikes that'll be on hand are on Facebook.
Bottoms up. Rubber side down (we mean it). See you next week.
by