by
"Too much of anything is bad, but too much good whiskey is barely enough." Mark Twain said that. He's a smart man that Mark Twain. He said a lot of brilliant things in his life, but that quote perhaps his most sensible.
Someone also said something like, "Never do today what you can put off till tomorrow." Well, tomorrow is today, and it's time to recap the Whiskey Offroad from two weekends ago, sorry for the delay.
The Whiskey Off Road is, as Twain said, good whiskey. After 10 years of evolution, this year's rendition was bigger, better, and sexier than all years prior. Mountain bike freaks and geeks flooded the poor town of Prescott en masse for the three day party, bringing with them a thirst for pain, dirty women, and hungry livers. It all started off with a boom at Friday evening's fat tire crit and there are only a few words that can describe the scene; butts, splits, gorilla. Skinny tires on big bikes, regular tires on big bikes, all rolling up steep hills at speeds I couldn't seem to wrap my head around. The only thing I could wrap anything around was, ehh, I'll just stop there. Anyways, we threw down.
Nobody was hesitant to let the great hydration (aka get really drunk) begin as the saloons on Whiskey Row packed with bike dorks, cowboys, and sexually confused Harley machos alike, pouring adult beverages down the hatch in attempt to numb the impending pain of Saturday morning. It was a late night and only about two hours of shut eye, but the suffocating stench of a man combined the welcoming temperatures dawn made it quite easy to start the day.
I won't bore you with the details of my 50 mile trudge, but I will note that the race was and always has been a breath of fresh air in the mountain bike scene. Aside from the always entertaining and painful Prescott singletrack, there was a strong sense of community within the not-so-competitive-just-trying-to-finish crowd. For every plastic bike stravalicious meathead chirping, "C'mon, this is a race, you should be able to ride that!" each time someone dabbled, there were five people that reply, "Hey fuck you, relax." That made me happy. Progress, fuck yea. Throw a penny in the jar of the chill.
I more or less threw in the towel at mile 45 to drink beers, feed beers and heckle riders in the woodsy tech section. While many of us amateurs struggled through this section, guys like Geoff Kabush made it look like it was nothing. And I think the key takeaway here is speed; go in with speed, go through with speed, go out with speed. Just pedal through and don't hit the brakes, and don't be a pussy. Here's Mr. Kabush putting on a clinic in the woods.
Here's female winner Lesley Paterson en route to victory. Not a bad view I must say so myself..  
And as always, there was a crazy ass primate in the woods getting his whisky on. Yes not whiskey, Fireball is Canadian eh?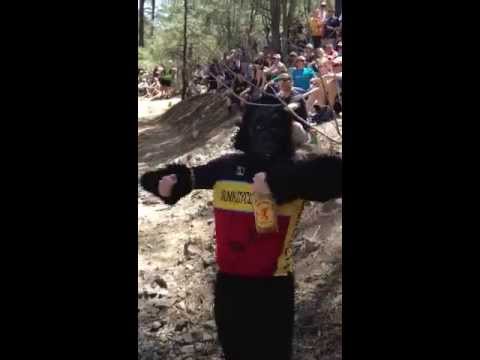 The 2013 Whiskey Off Road was the opposite of lame, and is why I continue to schedule my trips around Epic Rides' events. Here are some of my key takeaways from the weekend:
Big Tex made us all cry tears of joy, and Fireball. He is the real deal folks.
MDrive wins vendor of the year and only the coolest races in the country put penis pills in racer packs. 
Hop Devil and brats is the breakfast of champions. 
One thing that was felt for certain was the huge turnout, amateurs, pros, vendors, bands, the local community, everyone, and all I could think of was the collective "FUCK YOU!" that the weekend sent to USAC. Good job everyone. Now it's time to get the the fire stoked for Grand Junction. See you there.
by