by
Caveman's last video got me thinking about trying to do a little bit more self filming. I had a couple days free this week and I thought it would be fun to see how many different places I could ride my fat bike in 48 hours. I really wanted to get out of town so I pointed it north to Flagstaff. The only set destination being the Cinder Hills outside of town and I would make up everything else as I went along.
Driving through town I thought maybe I should stop at the skatepark and screw around a little bit. At the skatepark I ran into  a couple guys I knew and they reminded me of a pool out in the middle of nowhere. I figured what the hell, and drove out there. I had more fun out there by myself in that pool than should be legal, even if the footage is less than impressive. The next morning started a little slow thanks to a growler from Wanderlust Brewing the night before. But when I finally made it out to the cinders, I had the entire place to myself. I rode, pushed, and wheezed my way to the tops of the hills where I was rewarded with screaming fast and super sketchy descents. Once I had sufficiently scared myself, I decided to head down to Sedona to  meet up with some friends and end this whirlwind tour on some red dirt.
Here is a little two minute video I made to sum it all up. I hope you enjoy..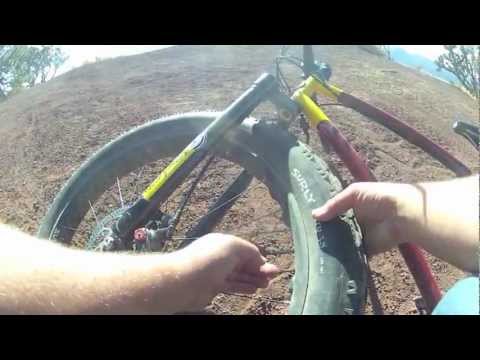 *Please note: I know the fat bike was the wrong tool for the job in a lot of this video. But sometimes it's really fun to use a wrench for a hammer. No matter how big and goofy the wrench may be.
by