by
By definition, I am the furthest thing from an athlete. But when you have any hobby that dominates your life and also involves some form of exercise, you tend to collect friends who are athletes. I have some friends that are into running like I am obsessed with bicycles and they occasionally try to mix drinking and running. It's almost comical. What they call "hashing" the average drunkcyclist just calls Tuesday night. But they try, so we will go easy on them. I have noticed a recent trend amongst the runners they call a Beermile. The idea is to have a beer after every lap ran around a track until you complete a mile. You end up drinking four beers, that's cute. I thought this idea needed a little drunkcyclist twist and I filed it away in the "potential bad ideas" folder for a few months until I could come up with something worthy.
Then one day it hit me. What about a beer century? Ride 100 miles and drink a beer every 10 miles . I spread the word and ended up with a solid crew of 5 other thirsty drunkcyclists willing to sacrifice a Saturday in the name of my bad idea. It was decided that we would ride from Tempe to Tucson which is actually 120 miles and 2 more beers. Perfect!
The 7:30am roll out was a little early for most of the crew but thank god for bars that open at 6am. Everybody woke up a little as soon as we finished our first pints and we were on our way. The ride started with a pleasant stroll on a bike path through the sleepy suburbs and at mile 10 we stopped for our first official drink. Ice cold Tecate at 8am is never bad.Then the tone was set for rest of the ride when LoLo came out of a port-john asking "Why is my dick greasy?" Once we all stopped laughing we realized that in his sleepy state, he forgot that he put chamois cream on and was quite startled by the mess in his shorts.
Feeling good, we kept moving south and just before mile 20 we picked up the last member of our crew. We were now a gang of six. Myself, Scandinavian Jesus riding his new Kona cargo bike, LoLo, Nebraska Scott, JS, and The Wizard riding his fixed gear. We were a sight to be seen rolling down the road. Every 10 miles we would stop wherever we were and have our drinks. Somewhere between miles 50 and 70 it seemed that the beers and the heat started to catch up with just about everybody. We made the necessary adjustments and got ourselves all filled up on the best local fare we could find. Gas station hot dogs and Indian frybread.
With my stomach not handling the heat and beer very well, the pivotal move for me at this point was to switch to shots instead of beers. Once again proving that whiskey fixes everything. We slogged along the highway frontage road for hours as  the sun got lower and lower in the sky. I separated from the group at one point in order to buy some fireworks and ice cream because it seemed like the right thing to do. The last three rounds were drank in the dark and we rolled into the Tucson city limits with a few warm beers and almost out of booze. The ride took all goddamn day, but after a few shots, 14 beers, and 116 miles we finally arrived in Tucson ready to party.
We met up with old friend of DC,Pistil Pete, and pointed it towards 4th Ave. We lucked out when the first bar we went to had some kick-ass live music and dirt cheap drinks. The rest of the night gets a little foggy but I do know that it was a damn good time. Check out some Pork Torta if they come to a town near you.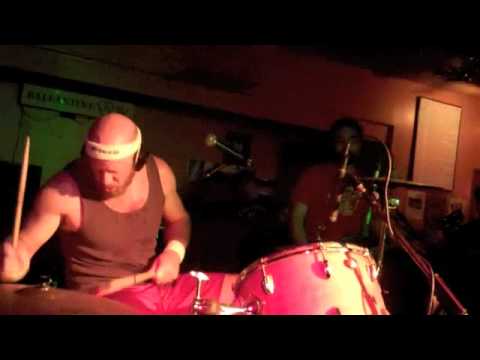 Grab some friends and give this a try, it was more fun than should be legal.
*if you want to see more pictures, I documented each beer stop on Instagram @dirty_biker and #beercentury
Keep it dirty…
by