by
This Friday marks the start of yet another Tour Divide. Last year we did a few interviews with some riders and I had so much fun with it, that I decided to do it again.
First up is Rudi Nadler. Known around here not only for his fixed gear mountain biking skills but also for his artistic ability. You may have seen some of his work gracing the cover and pages of Dirt Rag or the handmade trophies at various AZ events. A few months ago, Rudi e-mailed me out of the blue to see if we had any extra DC jerseys that he could wear for the Tour Divide. We haven't made jerseys in a couple years but we put our feelers out and finally found him one. We are pretty excited to have him flying the DC colors while taking on such an amazing task. When I asked Rudi if he would be down to do a little interview and a bike check he was more than happy to do so. So I jumped in the car and headed down to Tucson chat over a couple beers.
I first met Rudi back in 2006 at the 24 hours in the Old Pueblo somewhere around hour 22 as we were both grinding up the last climb. We chatted (grunted) briefly and realized that we were both on the same lap. Satisfied with my performance, I was about to sit at camp and wait for noon and he told me he was heading out for another lap. I only remember this because as we were talking I realized that he wasn't coasting. He was on a fixed gear. I let out a couple expletives and watched him ride off to another lap.
Come to find out, that same year he attempted the tour divide on a fixed gear. He made it about 1000 miles without coasting before his body called it quits. He hasn't done a single bike race since. Last year, while watching his buddy Dejay prepare for the Tour Divide, he got bit by the bug. Through the encouragement of his wife Amy, friends, and family he decided that this would be his year to try it again. Here is his bike check and a little video interview we did while hanging out in a Tucson deli.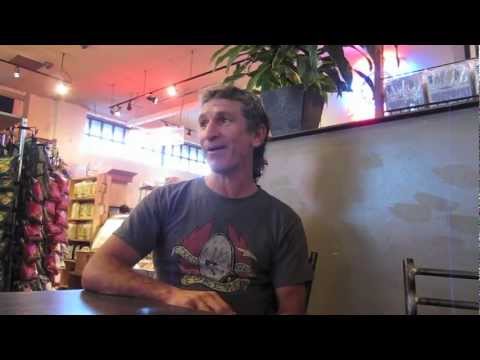 Age: 49 years
Hometown: Tucson, AZ
Bike setup: Custom Rosene frame and a custom Waltworks fork. Steel, supple, springy, and fun.
Sram 2 by 10 drivetrain with Avid mechanical disc brakes. Time pedals, Salsa Woodchipper bars, WTB Saddle, Stan's not-tube arch wheels and Specialized Fast Track 2.0 tires.
Baggage: Relevate Design bags, Saddle bag, Tangle bag, Fuel Cell, Sling, Feed bags. Camelbak Octane 100 oz pack.
Sleeping Kit: 40 degree bag, Self inflating 3/4 pad, and bivy.
Clothing: Two pairs of cycling shorts, one light jersey, one heavy jersey, arm warmers, wool knickers with chamois removed, wool socks, compression socks, short sleeve wool t-shirt, long sleeve wool t-shirt, wool long bottoms, waterproof gloves and socks, insulated jacket, rain pants and jacket.
Misc: Maps and wireless cycle computer.
by