by
The year was 1998. I was 28 years old, a handful of years out of college, and working in a bike shop as a mechanic. The woman who was to become my wife and I lived with our two dogs in a nice little three bedroom ranch house we bought in Tempe, Arizona. I was as deep into cycling as anyone could be. 1998 might seem like a long time to some of the younger readers. But, I started drunkcyclist just two years later, in September of 2000.
I first heard of Frank Vandenbroucke in a magazine called Cycle Sport. I was a subcriber to at the time. This was at the dawn of internet based cycling coverage. However, I did not acquire a home computer and internet access until the Spring of 2000. This was at the end of the print era of my life, although I did not know it at the time. It is strange to reflect upon now. We live in a very different world these days.
This young man they called VDB was setting the world in fire. He took the 1998 Paris–Nice in fine form, while riding for Mapei-GB. Which was, of course, about the coolest god damn bike team on the planet at the time. It was fantastic. You couldn't look more pro than VDB.
Image source: http://photos.grahamwatson.com/Print-Gallery/Frank-Vandenbroucke/16596146_RVWwpH/1250517894_7qpJr#!i=1250517894&k=7qpJr.
Then came the Spring of 1999. He now rode for Cofidis, another totally baller squad. Liege-Bastogne-Liege was the race, La Redoute the climb.
Michel Bartoli had taken the top spot in 1997 and '98. It was his race to lose.
Bartoli showed his superiority over VDB, et al., on La Redoute in 1998:
Image source: http://www.cyclingnews.com/features/photos/frank-vandenbrouckes-life-in-pictures/91462.
The next year, VDB had so much swag that in "the media interviews prior to the Liege-Bastogne-Liege, he announced that he would attack on the climb to the Côte de la Redoute and nobody would be able to follow him." http://sustainable-spain.com/tag/frank-vandenbroucke/.
Big baller. Shot caller.
Everyone knew what he wanted to do. And, when the moment came, none could do a damn thing about it. Bartoli tried. But for him, it was the way of the cross.
Video of the 1999 Liege-Bastogne-Liege, beginning with the climb of La Redoute:
By that fall in the Vuelta, VDB was on fire. En fuego. He went to the event only to find some form for the upcoming World Championships. He was going so well, he figured he may as well stay around for the finish in Milan.
Man, he made it look easy. Such was the class that he had.
I cannot say it any better than this: "Vandenbroucke ravages the peloton in Navalmoral (second category climb), on the way to Ávila":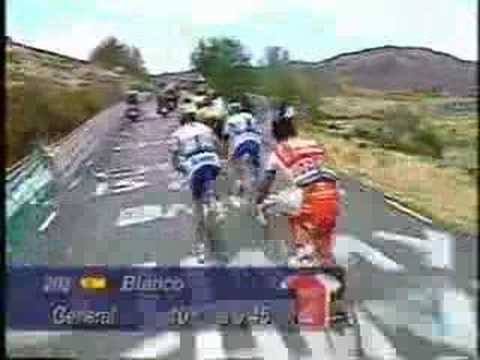 He went into the World Championship Road Race as a favorite. If you want to see what pro looks like, just look at VDB in that race. An early crash led to two broken wrists. He still finished 7th.
After his victory in Liege, they said he was the Heir Apparent. They said he was God.
He was, of course, neither. He was a man. And man has failings. The flesh is weak, it seems.
That was to be the high-water mark of his career. Sadly, it just slipped away from him, bit by bit. He switched teams, year after year, always with the promise of improvement. But, trouble always followed quick behind. He then became l'enfant terrible.
His career began unravelling in summer 1999, when he was detained by French police in one of the many drugs cases that followed Festina. He was banned for two years, and then came the first of a series of comebacks that followed a depressingly familiar pattern: each time, he would declare he was back on the rails. http://www.guardian.co.uk/sport/2009/oct/13/frank-vandenbroucke-death-cycling.
2003 was a stand out. He looked great, just great. I thought he was back.
And, lastely, he had been called the James Dean of his generation. The difference being Mr. Dean went out on top of his game, rather than long after he had become irrelevant.
There is, no surprise, a VDB autobiography. I will have to wait for an English translation. I am, unfortunatly, only barely competent in my native tongue.
Selected palmarès here: http://en.wikipedia.org/wiki/Frank_Vandenbroucke_(cyclist)#Selected_victories.
More pics: http://photos.grahamwatson.com/Print-Gallery/Frank-Vandenbroucke/16596146_RVWwpH/1250517894_7qpJr#!i=1250517570&k=SdVeF.
Erik M. sent me this last spring:
Taken in Erpe-Mere Belgium after the UCI womens race. He still has a posse
God komt terug thuis.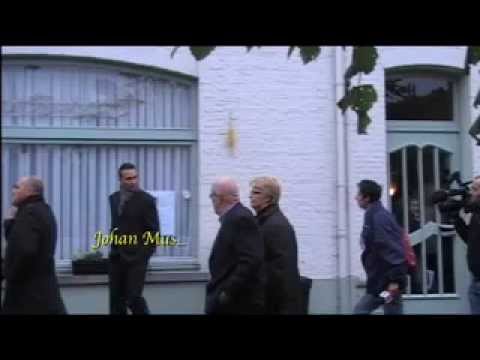 I asked Snakehawk if he could put together a graphic based on the Andre the Giant Has a Posse. He sent me this:
PDF you may download and do with as you please here: http://www.vdbhasaposse.com/. (url is a redirect right back here to www.drunkcyclist.com)
That's why VDB has a posse.
by