by
I cruised over to the DC Tumblr page as I settled in for my post ride recovery beer(s) this evening. Although I'm not quite sure what this thing is all about, I do know that Big Jonny does a hell of a job putting up badass images and commentary. This little blurb caught my eye:
I have this race on DVD, the 1998 Tour de France. I watch it occasionally. Stage 15 was insane. The pain of that day is unreal. I wish I still had the full stage (or what passes for a "full stage" on American television) I recorded back in the day on a VHS tape. Fuck. Talk about the hurt locker.

For Ullrich, it was the way of the cross.
In 1998 I was still in college working at a shop and  just eating up whatever coverage of the Tour that I could find. I remember watching this stage and I recall being just as in awe of the speed at which they climbed back then as I am today. What a year it was for the tour. Starting in Ireland with that Prologue through the streets of Dublin. It had Zabel, Steels, and Cipollini in the sprints. Bobby Julich finishing on the podium in Paris. The unthinkable removal of Alpe d'Huez as a stage and replaced with some lesser known hill called Les Deux Alpes. Only to see Marco Pantani blow the whole Tour to hell upon it's slopes. This was the stuff of legends. But it will always be tainted and remembered as the year of  the Festina Affair.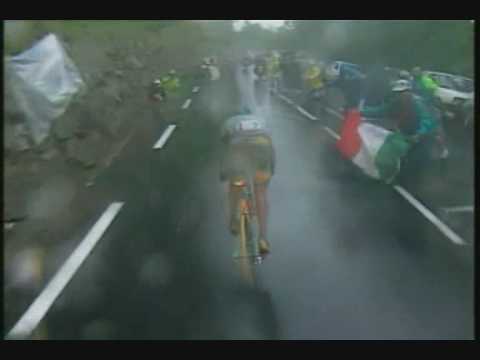 Legends…
by