by
I have received a ton of text messages, tweets, phone calls, and facebooks from all over the country today. They all had to do with some sort of cyclocross race or another. I think it's safe to say that this may be opening weekend for cross season in the United States. Being from the Northeast, I know the excitement this brings.  It's that last gasp of fun before the inevitable winter hell sets in. Each race weekend gets colder than the last until finally its time to hang up the race bikes and grab the skis.
Today in Arizona it was 95 degrees and not a cloud in the sky. After living through the hottest August on record, 95 seems downright comfortable. I even got to ride the mountain all the way up until 9am today. So as you can imagine, cross is the furthest thing from my mind.  That is of course, until I saw this: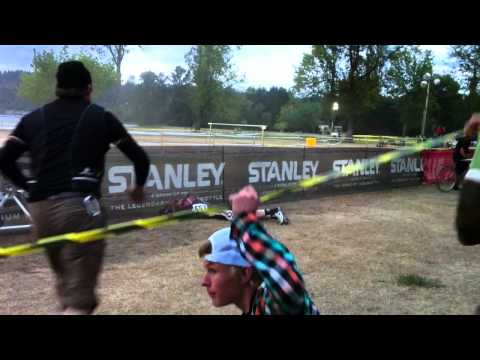 …and now I can't stop laughing.  Thanks to bikehugger. for the video. Don't worry, Joey is OK.
This got me thinking. I own a cross bike and Caveman and myself will be at SSCXWC in November. I probably should do a couple races this year. Come to find out there is an Arizona Cross Series ( fb ). The first race is on October 15th, the same day as Tour de Fat.  I think some racing would really round out that day. Especially after what happened last year.
by