by
Fabian Cancellara is the man.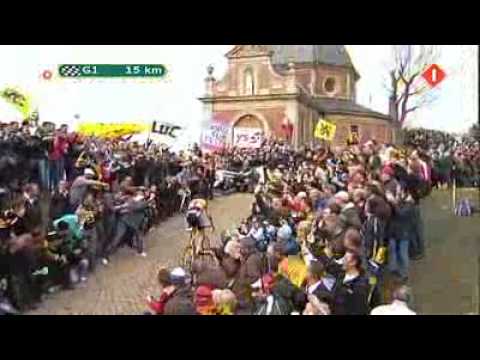 zMud put a link up in the comment section earlier to the move of the day. It may be part of the same footage in the embedding video above. I can't understand a word of what they are saying. I don't have any idea what language they are speaking. But, at the same time, I can understand every word they are saying. Check it out in all its glory: Cancellara laat Boonen achter op de Muur.
The best written word to describe the moment that I've read tonight is this right here:
Having watched Flanders since the early 1990's I can't remember a more audacious piece of riding (maybe Tchmil going for broke after the Muur on his way to winning it). That was pure class – a 160 mile race decided in about 16 metres putting the Belgian champion to the sword on the Muur de Grammont in front of thousands of baying Belgians.
Source: veloriders.co.uk.
Another post in that same forum directed me to a post-race interview video with Cancellara. You want to know what that charm was Cancellara pulled out of his pocket was? A good luck charm, an Angel, given to him by his wife and daughter when he left Switzerland on Friday. Now that's good stuff. See it here: sporza.be/permalink.
One last note, was Tyler Farrar's fifth place on the day the second best American finish ever in the Rhonde? I think George Hincapie's had a 3rd, 5th, 6th, 7th, 10th, and a 14th place since around 2000 (which is seriously impressive in it's own right). Prior to that, I really don't know if any American has done better than third.
by