by
There is a certain time when certain people need to be called out, and in this case, it's a doped-up lying asshole cheat named Ben Berden. You know, the class act cyclocross racer who got banned from racing in Belgium for EPO. He later told dopers to "keep lying." – nice. Powers apparently thinks he's a nice guy too. Hmmmm:
"Then take Ben Berden. He did a bunch of drugs and got popped, but it turns out he's the nicest guy. He comes over here (to the U.S.) to race and he's extremely nice, outgoing, and he tells it like it is. He says there were a ton of drugs going around back then. He got caught up in it and he's paid his price. He can't even get a contract in Belgium anymore because of all the bad press. But he's been super nice and helpful. For me that's the biggest thing, how they hold themselves after that." – VeloSnooze
Well he's at it again being all nice and classy, recently taking to his Twitter account to call out one of our own, Charles Scott McDonald. 
You remember Charles? We all pitched in a while back to help him get a prosthetic arm. He's a badass rider and a great dude, we ate plenty of beers and shared stories earlier this year at cross nationals.
The Story:
Charles was doing some good ol' heckling at Cincy3 when Ben got all butt-hurt because he can't deal with the truth. Caveman put it best when saying, "If you don't like being heckled, don't race cross." So after being called a "doper" (which is 100% true), he told Charles, "say it to my face." So Charles chased him around the couse and said it to his face, simply doing what the man requested. Well then things got out of hand when Berden took a swing at Charles when he rode by the pits. Seems as though it's not the first time he's dealt a low blow..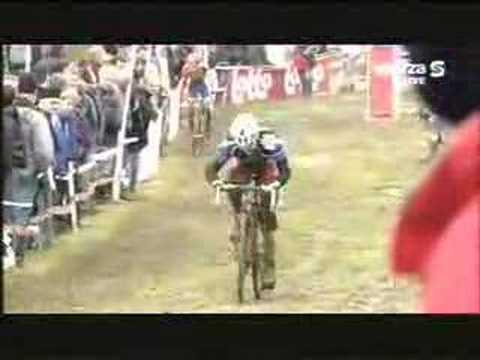 So after the race he rode up to Charles once again and asked if he had lost his arm from masturbating. Real classy. Your team must be proud of you. Charles replied saying he'd lost it shooting dopes like him. He rode away.
Ten minutes later he rode up to Charles yet another time to inform him he would have kicked his ass had he had both arms. Charles, unwavered, told him to bring it. Ben didn't. Then Charles told him he couldn't kick his ass if he had zero arms. Kapooyah.
You see, here at DC we're one big happy family when it comes down to it, and when someone takes a shot at one of the family, that shit just doesn't fly.
So here's what you do: While sipping on your beverage of choice tonight, let Mr. Berden know what you think about the way he's been carrying himself lately. Perhaps shoot him a tweet, or post on his "supporters page", or let his team know he's been a shithead lately. Better yet, go heckle him in Iowa next week.
Thanks for your help, cycling doesn't have room for arrogant pricks like this.
by