by
Now that Lance Armstrong has had his Tour titles erased from the history books, Greg Lemond is the only American winner of the Tour de France.
A lot of us grew up with Lemond. It was his triumphs that made us fans of professional cycling. He was fantastic on the bicycle.
He had so much class. It's just ridiculous. And he still does. When asked about Armstrong's fall from grace, this is what Lemond said:
He'd be forgiven for taking a degree of pleasure from the otutcome, but he admits that he's felt strangely detached as it became more and more clear that Armstrong was going to be nailed. "I've felt sad at times to see what's happened, because it shows the problems facing the sport," he said. "I didn't feel any great satisfaction." http://www.velonation.com/News/ID/13128/Video-Triple-Tour-de-France-winner-Greg-LeMond-speaks-in-exclusive-interview.aspx.
I'd say he showed a fair bit of restraint in that statement. He could say far worse. And, he'd be entirely justified in doing so.
Three times on the top spot at the Tour.
Twice World Champion. He straight up rocked the stars 'n bars.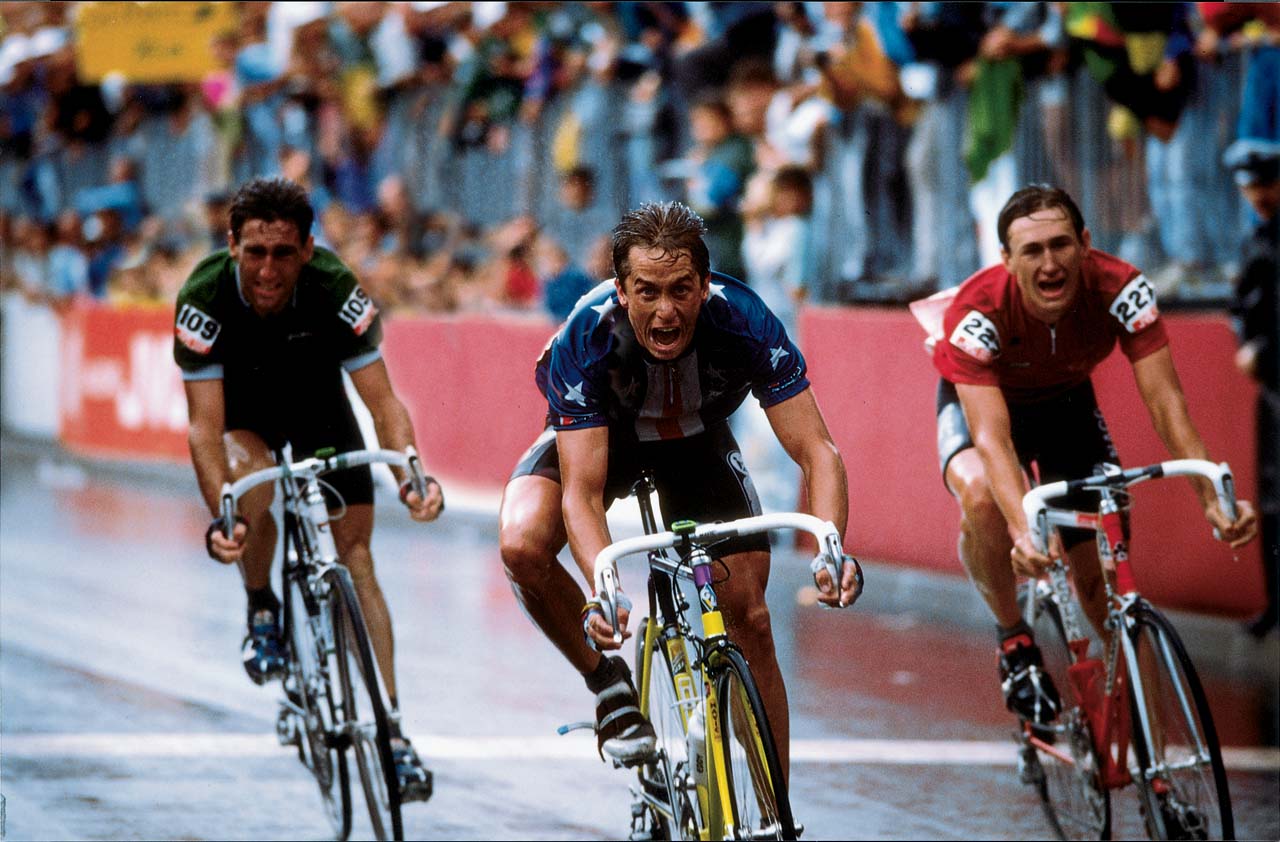 I broke this one out last week. My Lemond. Steel is real. She's been comfortably ensconced in my basement. No pedals, no problem. Snow all over my lawn. I haven't ridden outside for a month, at least. From the looks of the snow we've gotten this weekend, it's going to be a while. Don't worry, I have all summer to work on my tan lines.
I got the frameset a few years back from the fine folks at Sellwood Cycle Repair. I picked up the 8 spd Campy bits mostly from my man Panda. It is a fantastic bicycle. When the warmer months arrive, I'll be sure to take her out and splash some sunshine on her.
by