Every Tuesday night in the summer, here in Tempe, there is a little mountain bike race. It's called Short Track Papago and it has been going on for well over a decade now. Sandwiched between the airport and the freeway, Papago Park is a little oasis of dirt right here in town. It's not too pretty on the eyes, but it's fun to go roll on some dirt without ever having to be more than a mile away from a bar.
Last Tuesday was the official end of the race series and somebody decided to make it be a little bit bigger than an average week. Some prizes were donated, a course was laid out, and flyers were hung up in various bike shops around the valley.
We have all heard of 24 hour racing, well this was its little brother. This bad boy was 24 minutes on a course about 3/4 of a mile long with some twists thrown in to keep it interesting. The rules were pretty simple. Do as many laps as you can in 24 minutes. There was a beer "aid station" out on the course. Drink or don't drink, it was up to you. But for every beer you emptied, you got one bonus lap added to your total. Most were led to believe that this final lap count would determine the winner and the competition was fierce. When it was all said and done Nebraska Scott took the bragging rights with 3 laps and 5 beers making him the only one with an 8 lap total. Strong work, amigo.
To level the playing field between the drinkers and the "athletes" the top 5 men and women battled it out in a little game of capture the flag. Lee-Ann took it by a length for the ladies and Brad won it handily for the men. It should be noted that Brad actually threw up right before the final and was penalized 20 yards at the start…and still won!
First place took home an entry  to the Tour of the White Mountains and the Lanterne Rouge got themselves an entry to the Cruiserman. It was a fine way to spend a Tuesday night.
It was good to see that local underground racing is still alive and well in these parts. Contrary to popular belief, punk actually isn't dead in mountain biking.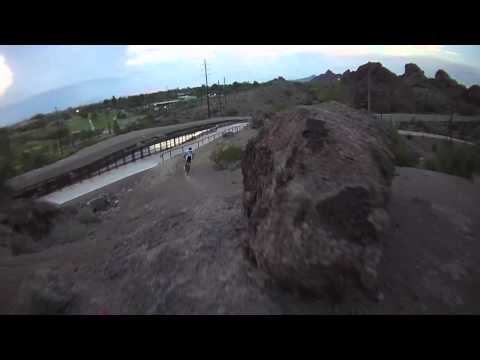 Do you have a local underground race in your town? I want to hear about it…put a link in the comments or email it to me.
Ride bikes. Drink beer.
Keep it dirty…
by