Update at bottom of post
NOTE: What you're about to read you've most likely read some iteration of in the past, or witnessed these things yourself.
I've riddin bikes in most parts of the country, all different, and all awesome. Mountain bikes, road bikes, fat bikes, rad bikes, tandem bikes, beach cruisers, fixed gears and (gasp) TT bikes, among others. I've noticed, and I assume you have as well, trends associated with each category of bike. I'll save you the time by not listing them all, but there is one commonality that unites most cyclists; we utilize some sort of taint protector, chamois, or lycra as it's become known. I've come up with ten reasons why fitting into, or "looking good" in your spandy pants DOES NOT MATTER. Enjoy.
1) Not fitting into your lycra shows that you may care about things other than looking good riding your bike. Perhaps how a bicycle works or how to build one. Looking good as a cyclist requires that you ride your bike, for hours and hours every day, leaving you with little time to do things like learn how to fix your bike, or create useful racing strategies. Don't get me wrong, there is nothing wrong with making a living from riding a bike, I'm envious of anyone that can do it. But what I'm saying is that STRAVA is deleterious.
2) Looking good in lycra doesn't make you more of a man. It doesn't mean you drink whiskey. It doesn't mean you chop lumber. It doesn't mean you work with your hands. It doesn't mean you have a beard.
3) If you're self conscious about your butt jiggle, or just enjoy looking more stylish than your Cat 6-NASCAR pals, baggies will suffice. Plus, you can carry things on your ride, like duct tape, hand cuffs, cookies, bad habits, etc.
4) Along those same lines, if you happen to stop mid-ride at the cafe' and go on our facebook page, you don't want to be caught with your noodle poking through your shorts while ordering your Latte', just saying.. Your shrunken package, mixed with the stench of your pitted-out, GU slobbered jersey will help at maximum 0% in you landing moist tail. Baggies on the other hand, mixed with a nice cedar-scented beard oil, will make it rain, son.
5) You don't eat burgers. And eating  a good burger is sex on the beach.
6) Aerodynamics mean nothing when you have 4 centimeters of spacers under your stem. And for those of you haven't heard of him, I'd like to introduce Semi-Rad, who crushes it here.
7) Because when it comes down to it, we are just not that serious about not riding our bikes, so stop trying to make it that way.
8) Fitting into tight lycra is like hipsters fitting into tight jeans. Do you own a fixie?
9) If you ain't busting out of our shorts, you ain't got a wattage cottage. And trust Cupcake on this, you want one of those.
10) Because you ride mountain bikes.
10.5) Because you aren't Clint Reynolds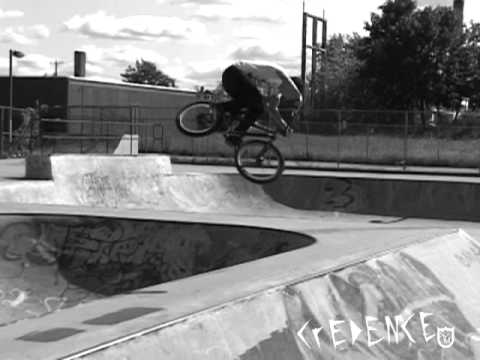 …
What did I miss?
by