First and foremost, happy fucking Independence Day America!
Go do what you do best you self-ruling crazy sons' of betches.
Anyways, by now, you've probably seen today's crash at the end of that group ride in France, or heard that Andre Greipel crossed the line first after a disappointing start to the tour.
"I'm so happy today. I am so happy to have those guys on my side, such strong riders to lead me out. This is what we wanted to reach today, winning a stage," Greipel said at the finish.
Well congrats Andre, you massive and friendly fucking monster.
But I'm not hear to talk about those things. Instead, I want to talk about a few items that perhaps may have flown below today's radar:
1) Sagan's Tourminator
2) More bullshit doping drama
3) The diet of an olympian
First off, there's this kid in town, his name is Peter and he's a fucking boss. Don't know if you've heard of him, but he's blowing the roof off the skinny tire scene this year. He's a fan of America, he was born in the 90's, and he makes men twice his age look like complete betches. He's got Cupcake's seal of approval, not that that means anything..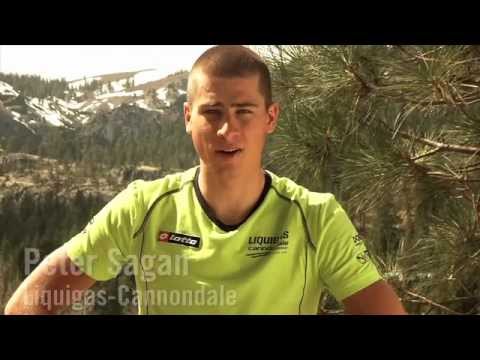 Moving forward, Dirty and I were talking about his bike ramblings this morning, and then he sent me this article about Alex Rasmussen being fired by Garmin for "violating the whereabouts system." I don't exactly know what that means, but I assume it has to do with him being absent from places he needed to be tested for drugs. OK, whatever. Here's what Dirty had to say about it:
There are so many cooks in the kitchen; Danish cycling, UCI, HTC, Slipstream, all trying to have the biggest dick. All while destroying this kids life. I wish we could just call him up and be like "so dude, where the fuck were you when the UCI came knocking?" Tell me you were balls deep in a supermodel.."
Well fuck. If only, right?
Finally, the diet of an Olympian. Lea Davison seems like a normal mountain bike babe, with modest beginnings and modest goals. For most of us, our athletic "pursuits" end at the bar stool following a half-assed ride talking shit with friends. For real athletes like Lea, it's a whole different game. A game that too often sucks the life out of a person, the passion out of their sport, and the thrill out of their journey. These types usually are strapped to their PowerTap. Lea's been able to keep a level head, finding balance between her professional life and personal life, and making sure to take down plenty of maple bacon cupcakes along the way.
Davison said that she is fueled for the upcoming Olympics by the love and support of her family, friends, and fans, as well as maple bacon cupcakes.
Looks like I've found my kryptonite. What, or who is yours? Share it in the comments for some stickies. Class is now adjourned, go grill some beer and shoot some guns, betch.
by