by
The Whiskey came and the Whiskey went, with shots of fine liquor and a dime well spent. It was last year's event that I first met Dirty, knew at first sight that we'd be flirty. Hell, who wouldn't be with a guy who gives Jim Beam, after blowing all his steam after that climb so mean? Now it's twenty twelve and we're on the same team, never staying clean and livin' the dream. In a very blurry way, DC saves the day, with the non-serious cheer and a deep supply of beer. It's early May and the Whiskey was here.
Upon arrival, you could feel a vibe in that thin Prescott air; a perfect balance of anticipation, excitement and fear. We'd waited so long for this weekend to come, knowing the history and what was to be done. But not knowing how to plan the three day stint of drinking, drinking, drinking, riding and drinking. Go hard, stay hard? Go easy, then hard? Go hard, then easy? What'll it be?
You may or may not remember, but Dirty was down in Mexico. He ate some food and got Montezuma's. Most people take Pepto Bismol to cure the discomfort, but DC's team doctor told us the only cure to Dirty's illness was a heavy dose of beer and whiskey. We stuck to doc's orders three days straight, and he's feeling much better. Some delicious Sunbru. Kegged.
Friday's highlight: Pro men and women fat tire crit. Dirty morphed into a gorilla and made sure the finely tuned pro machines kept their insides lubed. Sonya Looney is a drunkcyclis.
Saturday came to my surprise, not thinking I'd ride because of the anticipated hangover. But I woke up chirpy, with an itch that only 50 miles could scratch. Threw a leg over a Fairwheel rental, which came fully equipped with reflectors and tubed tires, to the start line for the roll out. Not going fast, sticking to the back, chatting and making new friends. We were cruising through the neighborhood up to the trails and all of a sudden, a crazy assed deer on a mission bolts over the concrete wall and barrels its ticked self straight into the unluckiest guy ever. It looked like this: 
I didn't see anyone with a camera, but I pray to Scandinavian Jesus that someone got footage of this. The guy, covered in deer hair and in a heavy daze, got back on his bike and went on with the rest of his ride. I don't know who he was or how he did it, but I'll give him Baller of the Day Award.
I gave not one, not two, but zero fucks about how fast I completed this race. My only objective was simply to soak up that western as fuck singletrack before flying my fluffy frosted ass back to Radison. So many people out there fighting for 453rd place, I just wanted to take in the views, have some breaks, eat some beer, and drink pretzels. What a day it was..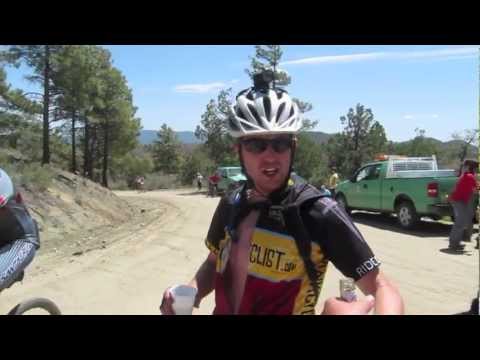 The reason I love the Whiskey is because they keep it real. Way real. No bullshit USA Cycling or anything like that. You don't need a fucking license. You just pay your money, do the race, get hooked up, music, beer, you name it. Epic Rides has it down pat and know how to organize not only a good race, but a three day fun fest for us binkers (bike+drinkers). I'll do this race for years to come because of the genuine, low-key feel and huge quality of the entire weekend. From start to finish, they've got this thing hummin'. You know that Todd, Cat, and the entire Epic crew involved in making this dream a reality put their hearts and souls into it, so thanks a shit ton!
by