If you haven't already seen this video, go ahead and watch it. The crash happens at 2:38.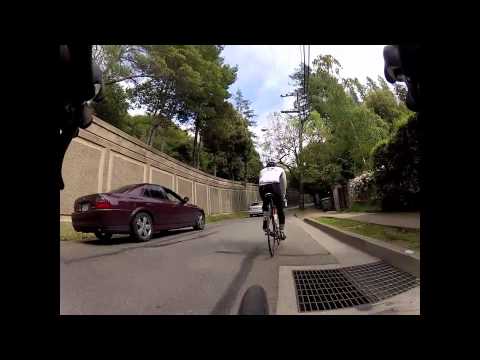 Now I could get on here and bash the motorist that struck these bike riders, call him every name in the book and continue the nonstop hostility between driver and cyclist, polarizing the two groups even further, but I won't. That's not saying the driver in this video isn't guilty, he fucking is. He sounds like a real asset to the human race…
Berkeley police found Michael Medaglia, who was on parole in connection with an earlier incident, at the Jack London Inn in Oakland after Oakland police found his car, which Medaglia had reported stolen Wednesday, some time after the cyclists were knocked off their bikes on Tunnel Road in Berkeley. Medaglia is the registered owner of the vehicle involved in the collision with the cyclists, police said. Police did not release the make or model of the car.

Berkeley police arrested Medaglia in his hotel room on suspicion of felony hit-and-run, heroin possession, a felon in possession of ammunition and violating parole. He was on parole from a 2010 case for possession of a switchblade, police said.

http://www.mercurynews.com/ci_20496010/video-shows-bicyclists-violently-struck-by-vehicle-berkeley?source=most_emailed.
This story aside, I'm amazed by the growing failure of both drivers and cyclists to put their egos aside, acknowledge each other, respect each other, and be able to control their own set of fucking wheels without hurting one another. There always some point to prove. The cyclist machismo versus the driver ignorance/arrogance.
It's sad because most motorists are good people, and most cyclists are good people. The generalizations of the two groups are outrageous, and unproductive. I think we can all agree on that, can't we?
When are we all going to grow up, learn a little bit of patience, respect each other, and remain safe and calm so we can all go on our marry ways without having to go to the hospital, the grave, or prison? I'm pretty sure nobody wants to go to any of these places. They all suck and they all are a waste of money.
Take a deep breath and calm the fuck down. Everybody.
In other news, Cupcake Whiskey report coming soon. Asses, deer, bacon and beer…
by