Maxim Iglinskiy (Astana) attacked out of a small chasing group to catch Vincenzo Nibali (Liquigas-Cannondale) within sight of the flamme rouge and take the win in the 2012 Liege-Bastogne-Liege. Nibali had jumped from the field on the penultimate climb and tried to solo in the last 20km, but the Kazakh gave chase to claim his first Classic win.
http://www.cyclingnews.com/liege-bastogne-liege/results.
I like to think of myself as a fan of professional cycling. I had my favorites for the day. None figured in the finale. I was left asking, who the hell is Maxim Iglinskiy?
"I have raced Liège seven times and I can finally win," said Iglinsky. "It was a surprise that I could catch Nibali. I could see he was suffering and I attacked him because I could see he was finished. I just buried myself and I could win."
http://velonews.competitor.com/2012/04/race-report/iglinsky-wins-liege-bastogne-liege-over-nibali_214585.
His palmares are such that the fact I did not have this man's name on my short list of potential winners comes as no surprise (see full list, in French. http://www.cyclingbase.com/palcoureurs.php?id=2896&idtitle=1). I mean to take nothing from his success, he just took the biggest win of his career. Congratulations are in order.
Best quote I've read today:
A less than spectacular race became a free for all of awesomeness with Vincenzo Nibali's great move on the Roche aux Faucons.
http://pezcyclingnews.com/?pg=fullstory&id=10308&status=True&catname=Latest%20News.
You can't spell Nabali without BALLER.
"I attacked myself on La Roche aux Faucons because I wanted to make a decent move, and it would have been hard to make a selection on the Saint-Nicolas because everybody was still up there. We would all have been up there waiting. I was just missing a little bit in the end,"

Nibali was quick to praise the Kazak rider, who in overhauling the Italian before the line, had secured the biggest win of his career.

"He's always been an excellent rider, but maybe if a Gilbert had come past me, I would have been happier."
http://www.cyclingnews.com/news/nibalis-last-minute-liege-bastogne-liege-attack-falls-short.
Dude. If Gilbert had come past you, I would have been happier too. Instead, this:
And, this:
Gritty vid of last 10k with English commentary: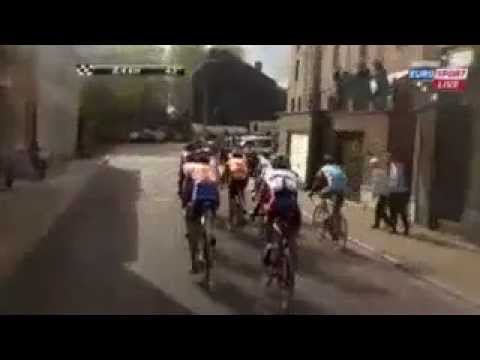 My riding today consisted of chasing a four year old boy and a six year girl old around neighborbood. It was the time of my life.
I love me some April. I'm about to watch the race on the television. So, goodnight.
by