The last of the OVCX races were last weekend, and I missed a really good time. I was on the verge of showing up for at least one of the races, but changed my mind at the last minute. I missed the online registration and balked at paying $40.00 to play in the mud. I have deep regrets about it now, especially with my Facebook feed blown up with pictures and video that show everyone having a damn good time.
My buddy James created heckleonline.com – where you could type in a heckle from your computer and it was broadcasted loud and clear during the race. You can hear (and see) the Heckle Ghoul in action during this video, where 50+ juniors were clearly suffering.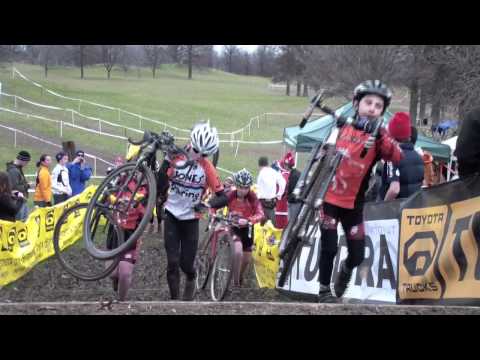 I predict the Heckle Ghoul will be at many, many more CX races around the country in 2012. Watch. James, I hope you make a whole bunch of money off that creation, my friend. Someone sponsor that site!
Cyclocross Magazine wrote a piece on it. You can read it here.
CINCINNATI, OHIO — Behold an amazing technological revolution for cyclocross: the digital Ghoul by Primax Studio. Unveiled at Cincinnati's Kings CX Zipp OVCX Tour cyclocross race on December 4, the Ghoul is a cloud-based digital heckling machine that seamlessly integrates digital technology with innate human psychological architecture to create a revolutionary new form of communications that could literally change the way we watch cyclocross…..

In its debut at Kings CX, the Ghoul delivered 2,285 heckles in one day according to the event log at www.HeckleOnline.com. That's an astonishing average of nearly six-and-a-half insults per minute non-stop throughout an entire six hour race day….

Using a smart phone, it's now possible to heckle riders on one side of the course while sitting in a porta-John on the opposite side of the park. Imagine the possibilities: in this era of inexpensive world-wide webcasting, fans can "support" their favorite racers while drinking beer and watching a live webcast of a race from a couch that's twelve time zones away, turning a formerly temporal and intensely personal activity into a form of mass entertainment.
So yea, totally bummed I didn't race last weekend. I had my running legs, the air was moist so I wouldn't have had issues with a cough, it was the kind of CX racing I've been waiting for.
But Dominic had to work a holiday event at his job, a 14 hour day. The annual party he works every year since it's also the employee party and everyone gets wasted except him. I wouldn't have wanted to race without him there. He's my mechanic, my cheering squad, my team. Without him at races, I feel a bit lost.
So instead of racing, I ran for a couple of hours in the ghetto and went to a Hot Yoga class with my BFF from the 7th grade and then went to get some tofu and shit after.
CX Nats are in a few weeks in Madison. Not planning on that race, nor the Master Worlds CX Championships in Louisville. It just wasn't the season that I'd hoped for. It's all good. Everything works out the way it's supposed to.
by