I needed relief from the maddening chatter in my head. No longer can I drink a glass of wine, pop a pill, do a bong hit, or pump poison through my veins to shut my brain up. I find my relief on a bicycle.
I have time for a 2 hour ride. I kit up in a Hail Satan jersey and stick my headphones in my ears. I grab two bottles from the freezer and load them into the cages on my road bike. I head out into the hot, humid summer air, and begin to pedal. My only focus is to go hard and feel my legs burn, shut my fucking brain up.
I have no one to meet so there is no rush. I have no destination. I head down Glenway and across the viaduct. I find myself crossing the Covington bridge and head into Devou park. I climb up into the park, a mile and a half uphill. I stay in my big ring, watching my heartrate climb, 160, 165, 170, 175. I stand up and grind down hard on the pedals. I do six laps of the old Devou park crit that took place last summer. I stay in my big ring the entire time, watching my heartrate as I climb the hill, over and over.
I head out of the park and down the hill, the warm air in my face, the taste of salty sweat around my mouth. I remember the day I rode there with Gnome and think about how things should have been. I pedal along route 8 and allow my heartrate to recover. I ride the 10 miles to the ferry, remembering my ride with Gnome some more. I get off my bike and watch the Ohio river as the ferry boat makes its way towards me. I wait. Once across, I make my way home, up Fairbanks to Warsaw and back in p-hill.
My arms and legs are dripping with sweat. My brain is quiet. Goal accomplished.
Dominic found a great website. Check it out. oldguyswhoride.com.
47 year olds can still fucking kick ass. There is nothing sexier.
I got this video from Dan H. on the Facebooks. The kid is sick. I love the whole video, especially where he starts throwing his bike around. That reminds me of Dominic. I told him he has some mother fucking work to do. Though he doesn't know it yet, the AM Flat contest has been canceled for Dayton and is being held in Buffalo, NY instead. Bummer for us.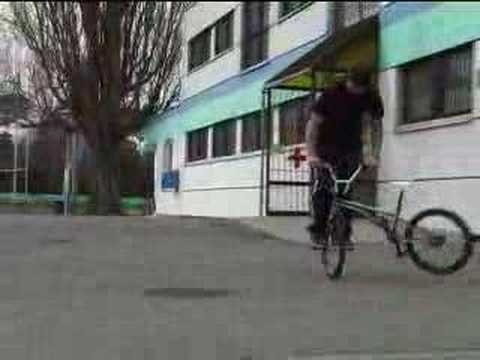 I'll leave you with a gorgeous picture taken a couple weeks ago on the Slow and Steady ride. It was the largest turn out yet – 125 people.
by