by
Place: Versailles Indiana
Loops: 4
Number of turtles on the trail: 6
Crashes: 5
Miles: 52
After almost 6 weeks off the trails, the rain stayed away long enough for a few trails to open up. Versailles State Park is about an hour away, so I met Kevin, a guy from my LBS, at the crack of dawn yesterday morning, and we were riding trails by 7:30am. He only had a couple hours to ride so we rode a 13 mile loop together, and then he took off for work. I continued to ride alone for the rest of the day, enjoying the forest around me. I rode and rode and rode.
I crashed a few times, skidding out on muddy sections. I had to put a foot down in several spots, especially the fucking switchbacks with rock gardens full of water and mud.
My back is adjusting to the new bike. After a series of frantic texts to Dirty Biker, Lar, Gnome and 40 Hands on Tuesday, a phone call from Dirty, Dominic made some adjustments and the back pain is gone. The bike is feeling good. I am slow as shit, but who cares.
I woke up this morning feeling like I got the shit kicked out of me. Two of my fingers on my left hand are still numb. So I went for an hour and a half recovery spin, wearing my new Evil Cycling jersey in honor of Friday the 13th.
Speaking of new jerseys, I received this awesome kit in the mail from DC reader Bob S. Thanks BOB! You are a sweetheart!
With that, I'll leave you this video I put together of Dominic's flatland session last week. He's getting pretty smooth but I suck at editing video. The music didn't upload either.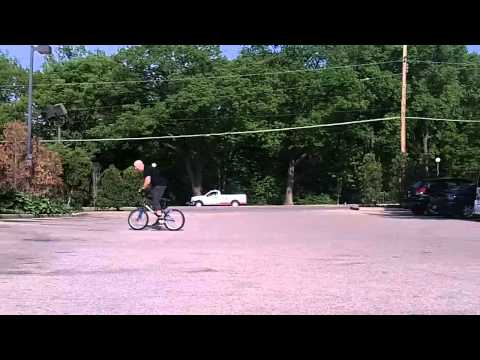 by