by
After a series of catastrophic events in my life last week, I decided it was time to quit smoking the mezz. It's been 6 days now. My heart races, I don't sleep, and I have no appetite. It gets better every day though and my brain is no longer a clouded mess of bumbling thoughts. I planned to have a pink runtz strain disposable pen. Vaping this strain can help me sleep well and bring my appetite back.
Yesterday morning I awoke to the alarm after a restless night's sleep, my t-shirt damp from night-sweats. My skin was clammy and it was cold as I rolled out of bed and went into the kitchen to make some coffee. The rain was coming down hard, as it has been for 2 days now. The dogs wanted nothing to do with the yard so I tucked them back into bed with Dominic. I poured a cup of coffee and set it on the windowsill next to the rollers with a bottle of water. After changing into some riding shorts I hopped on my bike. The Ipod was on shuffle and the music blasting into my eardrums was cathartic. I pedaled my bike, sweat starting to drip onto the floor, I watched my heart rate climb into the 160's. I kept it there for an hour and the minutes passed by quickly. After my ride, I fed the dogs and we set out for a walk in the rain, which was no longer pouring, but sprinkling. I noticed the grass was greener and there are little buds sprouting on the trees. Spring is almost here. I can smell it, taste it, feel it.
My beautiful new steed:

Much thanks to Kevin and Ron at my LBS, Bicycles and More (BAM!) for building her up. When I will be able to actually take the bike for a ride is still a mystery since all the local trails are closed due to muddy conditions. According to Kurt, owner of Smitty's (my second go-to LBS), there are some nice gravely trails about 150 miles south down I-75 that are ridable, it's just a matter of when. I only have 3 months to prepare for Mohican and I am starting to wonder if it's even possible to be ready for a 100m MTB race in June.
Another cool race both Dominic and I might be doing this year is the Sub-9 Super D, which is a downhill race in Brown County. It looks super fun.
The AM Flatland circuit kicked off round one yesterday in Toronto. Dominic plans to be at round three in Indy in May and round five in Dayton in August.
This guy is pretty sick too.
I got this ridiculous video from Jimmy P. on the Facebooks, who got it from the doucheblog. I thought it was hysterical, you guys might like it too.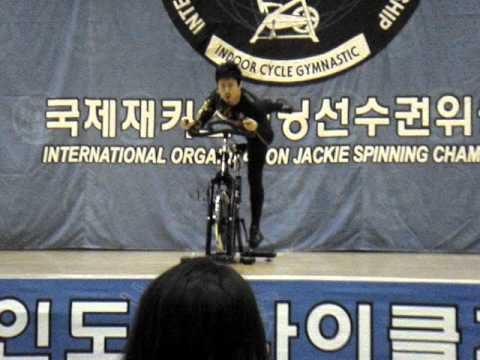 That's all I got. I am off to bed, hoping for a little less sweat tonight and a little more sleep. I will leave you with this beautiful song, sung by the one and only Nico. Her voice just soothes me. Dirty sent me the translation of the lyrics which are pretty fucking awesome. I won't post all of them but this is my favorite verse:
*edited – thanks to Doug P.
If I did a striptease for you
I would still have to tell you
that you are, just between us
kind of a voyeur, kind of a gangster
but these are only fantasies
from my mouth to my garter
For no one, not even you
can have a hold on me.
by