I am not one of those girls that likes to get dressed up and go out to dinner on VD. I'd rather go ride bikes. So that's what we did. We drove the 4 hours to Rays MTB in Cleveland. The park opens at noon on Mondays so we drove up early Monday morning with a guy named Kevin who works at our LBS, Bicycles and More. Our Raleigh rep, Sean, met us there with a couple bikes. He gave us the lowdown on Rays since it was bought by TREK. I guess the old Rays was a lot more fun.
Dominic brought his 20inch jump bike, I had my old 26inch beater with platform pedals, Sean brought a smooth ride, a 24inch Diamondback, that I rode a lot. I want one. He also brought a 29'er SS with a belt drive, but the wheels are way too big too ride at Rays. Kevin had a 26inch jump bike. I rode all the different sized bikes on the pump track and bailed once.
Kevin, Dominic, and Sean (RALEIGH) taking turns on the pump track.


This place is so fucking rad, I can't even explain it. A few highlights:
-Pump track.
-Rhythm room.
-Foam pit you can practice flips into (if you can get up the fucking ramp).
-Elevator drop.
-Beginner room with logs and rocks to practice on.
-Lots of flow sections with rollers.
-A halfpipe bowl thing.
Dominic and Kevin mastered the foam pit. This is Kevin's 2nd try.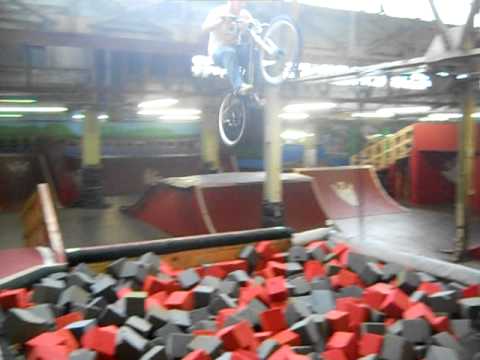 This is the elevator. You have to make sure your bike is all the way on, or else you will be half on and half off, like me. Luckily no one got that video. This is Dominic.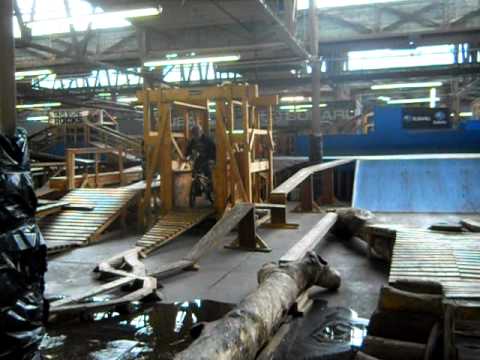 I made it all the way to the end and crashed into some rocks at the end.

I crashed kind of bad in this "beginner room". I endo'ed trying to go down these logs. It was like that slow motion kind of fall, I said "you guys think I can ride this" and as I was saying the words, I was endo'ing. It HURT and I bashed my shin up, but it was so fucking funny.
Speaking of crashing, I knew Dominic would go home injured.
The bowl. Or whatever you want to call it. Where Dominic tried to get vert. The helmet cam video from this will be interesting. He made it up to that Subaru sign.
And then he was down.
Later, the kids starting trickling in and we saw a dude doing nose picks and Danny Macaskill types of flips and shit. Two little tiny boys were shredding it up on BMX bikes, 6 and 8 year old sponsored kids. They were really, really good.
This was the raddest VD I ever had. I think we're making this a tradition.
I couldn't leave without tagging the place.

by