May you rest in peace, Marco. You were once a King.
When I think of Marco Pantani, I first think of a photo from the French newspaper, L'Equipe. On Stage 12 of the Tour de France, along with the rest of the peloton, Marco sits in the middle of the road, his bike next to him. There is a sadness, a disappointment in his eyes, as he looks juuust a bit away from the camera lens. They sat down that day in protest, against the poor treatment of riders during the Festina drug affair.

Pantani won the Tour de France that year, a tarnished cup though it was.

http://girl27.typepad.com/girl/2004/02/marco_pantani_j.html.
That same photo, large size, with treatments:
(Image source: http://www.vivamafarka.com/forum/index.php?topic=81246.0. Same image in color: http://astanafans.com/beppe-conti-istoriya-marko-pantani.html.)
The 1998 Tour was a complete train wreck, and one of my favorites. Of the 189 men who lined up on the starting line, only 96 finished in Paris. We all hoped it was the high water mark of drug use, and the end of an era. Instead it stands as a reminder of just how bad it once was, and how far we still have to go.
Pantani put them all to the sword on state 15. Pantani carried an entire nation on his back and became the first Italian to win the Tour since Gimondi in 1964.
(Image source: http://www.thesuitcaseofcourage.com/2007/02/il_pirata_airs_.html.)
Victory at Les Deux Alpes. That's how you do it – blow the entire god damn race to pieces, leave 'em all over the road fighting for the lesser places, cross the finish line alone and on top of the general classification. Take all comers and walk out owning it. Boom.
(Image source: http://www.cyclingnews.com/news/photos/bianchi-celebrate-125th-anniversary/101527.)
Video of same: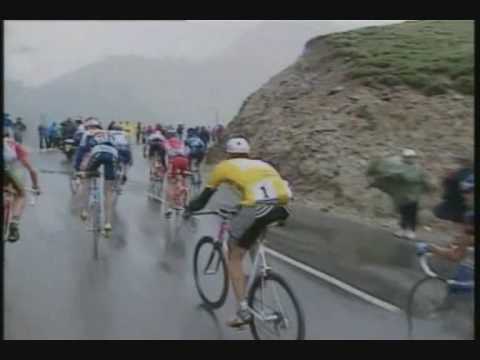 by