This vid is getting knocked around the interwebs. Not sure what I think of all of the issue presented yet. Well, not in the sense that I can artfully articulate them aside from simple stating: bikes belong. But, we all knew that much already. Two simple words with a whole lot of gloss. Anyway, get out yer tubs o' popcorn and push play.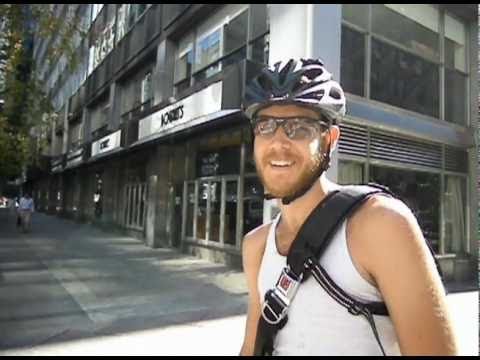 I found vid over on Andew Sullivan's site: Two Breeds Of Biker. (follow up post here: Two Breeds Of Biker, Ctd.) Which led, in turn, to this site where the whole piss-all-over-ourselves pill-party began: More bikes means slower bikes.
I will say this much, complaining about having to pedal slowly because you have sharing a bike lane with other bicyclists borderlines on the ridiculous. You went from being as exposed piece of flesh, dancing precariously between flesh-eating monster automobiles in the grim ballet I like to refer to as Please Don't Fucking Kill Me I Have Kids, to having to slow your roll when overtaking those trying to keep from sweating through their dress shirts on their way to work.
I find it hard to empathize with such a crisis. You have done little more with your life than replace the asshole in the Dodge pickup who leans on the horn and screams "get the fuck off the road" at me while attempting to balance a half gallon of moo juice on his fleshy thighs and polish the one eyed gopher when he's doin' seventy-five in a thirty-five. (see The bloodhound gang – A lap dance is so much better when the stripper is crying.) Meet the news boss. He's the same as the old boss.
Does it feel good to be on top of the food chain? Or, is it lonely up there by yourself?
Mr. Salmon posits, "if you're biking around Copenhagen, you're going to go a lot more slowly than if you're biking the same distance in NYC." (More bikes, supra.)
I have not been to Copenhagen. But, I have been to Amsterdam. And, I have cycled around that fair city. I can tell you this much, my friends, the bike lanes are quick, they are well thought out, and they are civil.
You will not average 27.8 miles per hour (or 30 mph, or however fast you think your weekend-warrior ass should be going). But you will get from Point A to Point B in a timely and orderly fashion, with minimal interference from both pedestrian and automobile. It is a net positive experience for all road users. And one that should be widely replicated in this country, post haste.
by