Oh hell. You can write me off for the balance of Sunday. I will take no calls, I will answer no emails, I will read no cases, I will read no commercial outlines, I will not work on the second draft of my advanced writing requirement. I will do little else aside from spraying beer laden spittle across my flat screen t.v. as I get properly blotto'd in my living room before the glory which is time -delayed Paris-Roubaix coverage on Versus.
Phil. Paul. Pilsner. Done, done & done.
Graham Watson calls it like this:
My tip: Boonen, Cancel, Hincapie.
I like Boonen, his issues with the ski lodge and all. (see Tom Boonen snowed in at the ski lodge, letboonenride.com, Boonen snowed in. Again.) Young Tom will be very strong on Sunday.
I think Cancellara is on the form of his life. And he most certainly be a protagonist, one who shapes the story with the sheer force of his will. He tore Flanders in half last week. I am still giddy from watching that attack!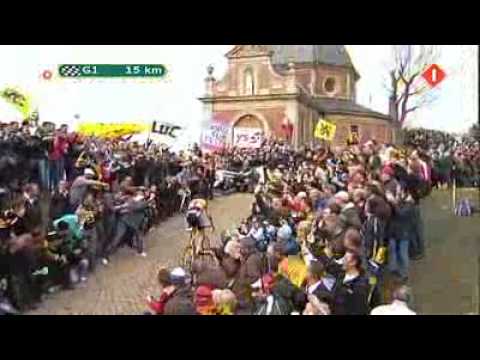 Gorgeous George is also in the hunt for the Big Win. I haven't had a lot of faith in the old boy years past and the race has not always treated him well (e.g., ditch, steertube), but I feel something has changed. I've got a special feeling about Hincapie this year. I can't quite put my finger on it, I just feel it in my bones. He's one move away form the top spot on the podium. Velonews has a class write up and interview with Gorgeous, Don't count him out: Hincapie says he's still a Roubaix favorite. Definitely worth your time.
If you're a betting man (and it is best for all involved when I am not), the odds for Paris-Roubaix are interesting. They track two things; the smart money bet (the guys who underwrite the enterprise always keep their thumb on the scale), and the trending (where people are throwing their money).
2010 Paris-Roubaix Betting Odds
Fabian Cancellara at 2.88 with Betfred
Tom Boonen at 3.60 with Bet365
Matti Breshel at 11.00 (10/1) with Blue Square and Unibet
Thor Hushovd at 15.00 (14/1)0 with Sky Bet and Sportingbet and Unibet
Juan Anotonio Flecha at 19.00 (18/1) with Blue Square
Filippo Pozzato at 21.00 (20/1) with Bet365 and Betfred
George Hincapie at 34.00 (33/1) with Betfred
Berhard Eisel at 35.00 (33/1) with Unibet
Tyler Farrar at 45.00 (44/1) with Unibet
Leif Hoste at 51.00 (50/1) with Bet365 and PaddyPower
Stijn Devolder at 51.00 (50/1) with PaddyPower

From velotips.com.
I went with the list of eleven to show the long odds on both Hoste and Devolder. Either of them have, in my opinion, the horsepower to do it. But neither are in control of their own destiny – they need a lot of cards to fall their way before they'll be out front & alone. Just like my man Servais Knaven in 2001. When the cards are right, the smart take flight.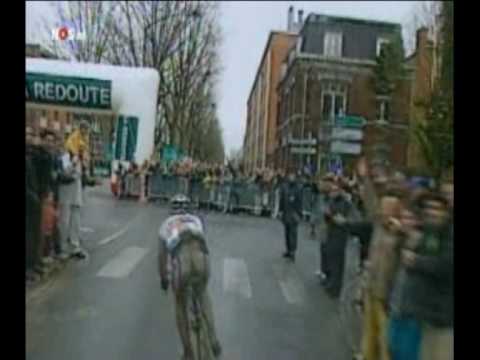 When Knaven rolls across the line on Sunday (and I believe that he will indeed do so), he will set a record for being the only man to both start and finish Paris-Roubaix 16 times. Good on, ya. You are a very hard man.
Another interesting tabulation of odds can be found at odds.gambling-guru.com/cycling/paris-roubaix/winner/. They have, at the moment, trending toward the overall in this order: Cancellara, Boonen, Breschel, Hushovd, Pozzato.
Hushovd. Roubaix did him low last year. And you had better believe he full well knows it. He'll be looking to hurt people this year. (Sorry for the choppy vid, best one I could find.)
Breschel is a dark horse as far as I'm concerned. I've certainly been wrong before, but he's not on my radar. Pozzato too. I just don't see it happening. But, I do like surprises.
In other news, Alessandro Ballan is out while his team pending the outcome into a doping investigation. I'm not sure now much of a difference his presence would have made in the outcome of the event, but it's a shame to see him kept home for a reason such as this. I want pro cyclists on the road competing, not sitting on their thumbs while the prosecutors dig through their trash.
David Millar is looking sharp with a win in the Three Days of De Panne and one hell of a showing in Flanders. And I love the guys style. Always have. I haven't seen much mention of him for the overall, more of a "wow, look who is maturing into a classics rider" type discussion. Maturing is a good word to use when describing David Millar. He has been through a lot and grown considerably as a result.
I think it is important to recognize those who admit wrongdoing, take their lumps, and get on with it as Millar has.
First, though, is Paris Roubaix – only Millar's second start in the Queen of the Classics. A reconnaissance of the final 90km on Thursday left him "terrified," but he is looking forward to his first proper shot at the pave. "It scared the shit out of me," said Millar. "Arenberg blew me away, and there were times I thought: oh god, what have I signed up for?"

Read the rest: cyclingnews.com.
I'm not sure how he'll figure in. But I imagine that he will. We will see, of course. We will see.
Our man Whit drops bombs on his Pave blog as he's prone to. Check out: 2009 Preview to the 2010 edition of Paris-Roubaix and Monday Musette – Special Wednesday Edition. Be sure to watch the vid of Cancellara's bike hand-off in Flanders. Impressive stuff.
Happy Friday.
by